Bumble Ward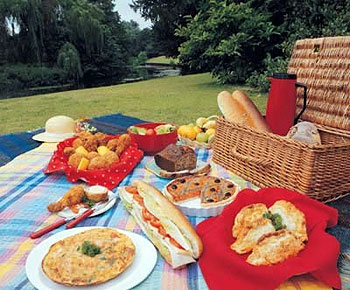 What makes a better Mother's Day than a picnic?
I contemplated this while driving down Sunset Blvd tonight, the big ol' moon silhouetted behind the palm trees, on one of those nights in LA when you feel true glee at being alive in the smoggiest city in the United States (it's true, it was listed today).
Think about this:
A roast chicken, some hummus (lovingly made, in our case, by the Maharishi, a true Lebanese purist when it comes to the blending of garbanzo beans, garlic, lemon juice, tahini and olive oil), some Arabic bread, some bright, sweet, red tomatoes, a punnet of sweet strawberries, a little Sancerre, a pretty tablecloth, the children (let's pretend for a moment that they're not too old and reluctant), a couple of dogs for good measure.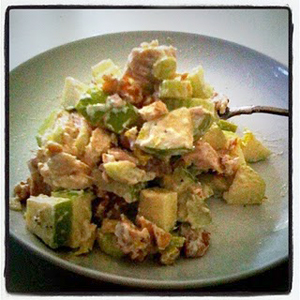 As I was making my Shepherd's pie for our book club supper last night, I started to nibble thoughtfully on a celery stick and realized with quite an epiphany what a maligned and ignored vegetable the poor celery is. All due credit to Hugh Fearnley-Whittingstall who said, famously, "Celery is a bit like a gym membership." The crunch is the thing, isn't it? It's the minxy little crunch that gets you every time.
Which led (as it does, stay with me here) to my driving home this morning down the CA 170 (my very favorite freeway) absolutely ravenous after schooling three horses and wondering what could prevent me from stopping at a fast food drive-thru. Cut to twenty minutes later and a plate adorned with a skinny version of a Waldorf salad sits in front of me, proud as can be. Easy and inadvertently calorie-conscious (as I couldn't find any mayo in the bloody fridge). Here's how you make this excruciatingly simple, scrumptious, crunchy lunch: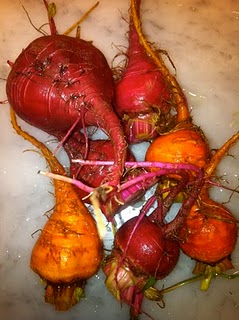 Los Angeles is shedding its winter coat, the birds are singing; Spring has boinged in like Zebedee. The farmers markets are jam-packed with citrus, strawberries, golden beets and asparagus.
I got four bunches of gorgeous, small, round radishes for $2, two bunches of sweet peas for $4 and tiny beets in every shade of pink and gold.
Fifteen old friends came to supper last night, a Clein + Feldman reunion. It was, of course, just as if twenty years hadn't gone by: everyone looked the same, sounded the same, but maybe wiser, greeting each other as if we'd been in the office together just yesterday.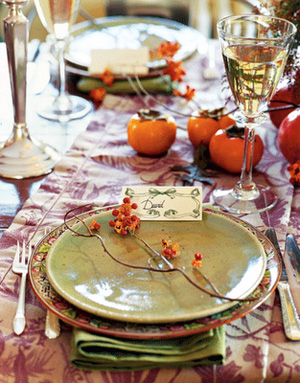 Thanksgiving is my favorite holiday. (Although come Christmastime, you know I'll be making the very same declaration, ditto Easter). This year we are having about 22 people for lunch. In LA, people say "What are you doing for the holidays" and I say sunnily "Oh, I'm having 22 people for lunch." They look at me in horror and ask why I'd be doing such a thing or tell me to make it a pot luck. Truth be told (and I am dear reader, a great advocate of truth as you know) I look forward to these great family feasts. I love sticking post-its all over my food magazines, and pulling down dusty cookbooks from the top shelf, and rifling through old recipes, and sitting in bed at night with the Maharishi swapping ideas for stuffing. The most brilliant thing is that my husband, the Maharishi, my very own James Beard (no pun intended) is a fantastic cook and a most excellent collaborator and so these things tend to go pretty smoothly. As long as we don't drink too many glasses of pre-lunch champagne, that is.

If nearly twenty-two years of marriage has given us anything it is the intricate dance of the kitchen. We could be blindfolded and still we'd know where the other was and what they were doing. Words are just superfluous and not because we'll be invariably listening to the NPR Julia Child & Jaques Pepin Turducken story or a lovely festive niblet from David Sedaris (yes, he has become a holiday favorite) but because things no longer need to be spoken. It is the kitchen dance of lerv.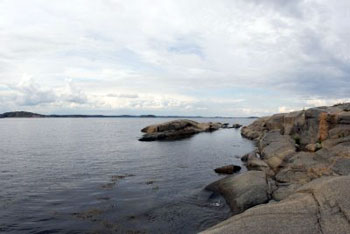 My mother phoned from Tjøme, the little island in the Oslo fjord that she calls home every June and July. She told me that the house was not too dusty, that the garden was overgrown but that a nice man was coming over to cut the lawn and trim the hedge so that she could see the ocean over it from her breakfast table. Of course, no-one had filled her fridge, so she had no milk, or tea, or bread, or jam. My aunt doesn't think of these things and I find it quite strange. I wonder if it is a cultural thing, or whether she doesn't think or whether she is just selfish. I wonder if my sister had made the long trip by boat and car all the way from England to spend six weeks with me on the island we grew up spending summers on since we were children, I could even imagine not greeting her with a full fridge and a vase of flowers on the table, a cup of tea, a glass of wine, a simple supper?

My mother can't walk very well but soldiers forth with her stick into the unknown and complains relatively little although I know she is often in pain. It is particularly cruel that someone so athletic would lose the proper use of her legs. She brings delicacies in her suitcases – food from Waitrose, eggs from the hens, wine, British tea bags – packed into her car for the long journey.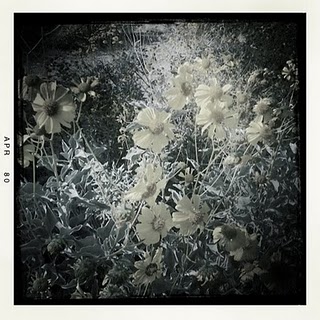 The desert palate is grey and yellow now. The grey of sagebrush, and the vibrant yellow of daisy-like brittlebush that bursts in great round humps among the rocks. In fact, it's gloriously golden absolutely everywhere in Palm Springs. These plants flower only once or twice a decade, so I feel enormously grateful to have been there at the right time, not that my Hipstamatic does them justice.
Sunday was the last day of the Coachella Valley music festival and the girls had very reasonably agreed to a 5pm pick-up, forgoing the chance to see Thom Yorke or Phoenix. It's a school night, after all. With a happy two hours to spare, annotated map in hand, I embarked on an architectural tour of Palm Springs. Some of the best examples of mid-century modern can be found within spitting distance of Palm Canyon Drive. I tried but failed to visit the Elrod House (1968, John Lautner) on Southridge Drive, saw the Ship of the Desert (1936, Earl Webster & Adrian Wilson, and the stunning Kaufmann House (1947, Richard Neutra).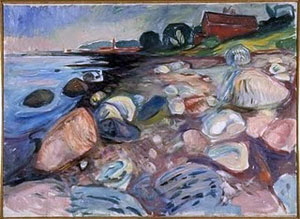 Munch's summer house was not far from my family's summer home, in Åsgårdstrand. He spent every summer there between 1889 and 1905, fell in love with the pretty town and with a married woman, Milly Thaulow (Mrs Heiberg).
The Shore of Love (Kjaerlighhetens Strand) is the 2010 summer exhibition at Haugar museum in Tonsberg. It's a rare treat and one of the biggest Munch exhibits ever held outside of Oslo or Bergen. The images are familiar to Munch fans – the lovers, the girls on the beach, the big Norwegian moon spreading light across the water.
Andy Warhol was a great fan of Munch. He first saw the work at a gallery in New York in 1982. Both men lost a parent at a very young age, and both, it seems were obsessed with death. His paintings and silkscreens are inspired by Munch's The Scream, Madonna and Self-portrait with Skeleton Arm.