Whole Grain Rustic Apple Tartlets for Two
by James Moore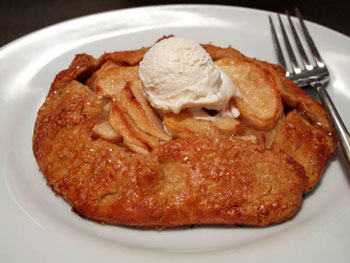 I love rustic or "free-form" tarts. This recipe makes two perfect tarts and can be filled with just about any type of firm fruit – apples, pears, peaches, nectarines or plums – whatever is in season. I used Arrowhead Mills Organic Whole Grain Pastry flour and it gives the crust a perfectly tender, flaky, buttery crust.
Crust:
3/4 cup whole grain pastry flour (or unbleached all purpose flour)
1/2 teaspoon sugar
1/4 teaspoon salt
5 tablespoons unsalted butter, cut into 1/4" pieces, chilled
2-3 tablespoons ice water
Filling:
2 small apples (Macs, Empire, Rome, Golden Delicious, Gala), peeled, cored, and sliced into 1/4" pieces
3 tablespoons sugar
1 teaspoon fresh lemon juice
1/4 teaspoon cinnamon
Pinch of nutmeg
1 tablespoon unsalted butter, cut into small pieces
1 egg white, lightly beaten
1 tablespoon turbinado sugar
For the dough:
1. Process flour, sugar and salt in a food processor to combine. Scatter the butter pieces over the flour and pulse until the mixture resembles coarse cornmeal, about 15 pulses. Continue to pulse, add water through the feed tube until the dough comes together and forms a ball, about 10 pulses.
2. Divide the dough into 2 even pieces on a piece of plastic wrap and flatten into a 3" disc. Wrap tightly in plastic wrap and refrigerate for 1 hour. (Dough can be refrigerated for 2 days or frozen for a month)
For the filling:
1. Adjust oven rack to center position and heat to 400°F. Remove dough from refrigerator and soften slightly for 10 minutes. Working with one disc at a time, roll out dough into a 7" circle between two small sheets of lightly floured parchment paper. Slide the dough rounds (still between parchment paper) onto a rimmed baking sheet and refrigerate until firm, about 20 minutes.
2. Toss the apple slices with sugar, lemon juice, and spices together in a medium bowl. Remove top sheet of parchment from each dough round. Stack apples slices evenly in a circular pattern, leaving 1 ½" border of dough around the edge and reserving a few slices to fill in the centers of each tart. Drizzle any of the remaining filling liquid in bowl over the apple slices.
3. Fold 1 inch of the dough up and over the fruit, leaving ½" border between the fruit and the edge of the tart shell, pleating the dough together every 1-2 inches as needed.
4. Brush the dough with egg white and sprinkle with tubinado sugar (or granulated sugar). Dot the tartlet filling with butter and bake until crust is golden and crisp and apples are tender, 35-45 minutes.
5. Let the tartlets cool on sheet for 5 minutes, then transfer to wire rack and let cool for 10 minutes. Serve plain or with a dollop of ice cream or crème fraiche.
James Moore has been a cooking enthusiast since childhood and started blogging as a way to share favorite recipes with friends and family. His site, Cook Like James has grown to include restaurants, cookbooks, wines, and favorite places.
Paris


by

Brenda Athanus





Our excitement builds as our tiny Peugeot navigates the streets of Paris heading for rue du Cherche-Midi and my mecca, Poilane. Poilane is an extrordinary bakery that I had been reading about and...

Read more...

Los Angeles


by

Laraine Newman





I slept with Hannah last night and it was like being 13 all over again. Although I think our combined ages when we do that amounts to about 10. "Quit tickling me!" "I'm not Mom." "Are too!!"...

Read more...

Los Angeles


by

S. Irene Virbila





OK, there's no ocean view: all the better to focus on chef Ray Garcia's cooking. Never heard of him? You will, because this young chef is doing something very interesting at Fig, a restaurant...

Read more...

Boston


by

Kitty Kaufman





We've had lunches up and down Third Street and we like eating outside. Le bébé is now a contributing eater and she gives Za her approval for whatever she got her hands on which was everything on...

Read more...