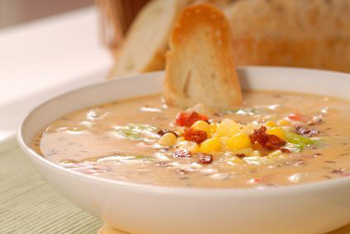 When you live in the Midwest, northern Minnesota to be more exact, where below-zero temperatures are no big deal, but just part of winter life, a hot bowl of hearty homemade soup is highly appreciated.
A few weeks ago I received a copy of "Enlightened Soups," by Camilla V. Saulsbury. As I was in the midst of holiday preparations, I didn't have much time to look through the cookbook. But as the New Year rang in, I was ready to get back to a more healthful eating routine. And, during the first week of the new year, a few of Camilla's Enlightened Soups have been a part of my lower fat, lower calorie eating plan.
As I paged through the cookbook filled with more than 135 light and healthful soup recipes, I soon noticed the recipes used ingredients that can be found in most supermarkets and that the soups did not take long to make. All can be prepared in an hour or less, some in just 20 minutes. Each recipe has a small illustration that shows how long it takes to prepare the soup. As I soon discovered, enlightened soups don't need to cook for hours to deliver wonderful flavor.
Another feature of "Enlightened Soups" is the nutritional information included with each recipe. I first tried Red Lentil Mulligatawny. It was rich with flavor and took 45 minutes to prepare from start to finish.
As a guest writer on my blog, Camilla Saulsbury agreed to share her top ten tips for enlightened soup-making. Her helpful tips can be applied to the recipes from her "Enlightened Soups" cookbook or they can help you turn your own favorite homemade soups into enlightened soups.
Camilla Saulsbury's Top 10 Tips for Enlightened Soups
Whether you're making Classic Tomato Soup, Garden Gazpacho, or Rice Congee Soup, it helps to remember that soup is a forgiving dish, making it one of the best ways to learn about the magic of cooking. Soup offers the opportunity to learn about the fundamentals of cooking, from sautéing to caramelizing to the blending of techniques, textures, and flavors, all with easy-to-follow steps. Further, soup is flexible, meaning you can tweak it to your palate's content.
Nevertheless, it's always important to begin by reading through the recipe before cooking begins, checking that you have all the necessary ingredients, and then gathering together all of the needed equipment for the task.
And for even greater assurance of success, follow my top ten tips for enlightened soup-making:
1. Know Your Salt & Pepper.
Proper seasoning with salt and pepper is the key difference between a great soup and a blah soup.
Salt is about as close to a magic ingredient as there is. Proper seasoning with salt doesn't make a soup salty; rather, the myriad complex flavors of the brew come to the fore. But add too much, and all your hard work can be ruined.
Fresh peppercorns are likewise key to creating great soup. They have tremendous flavor, especially in comparison to the pre-ground stuff. You can use your own pepper grinder, or look for the new peppercorn bottles in the supermarket with the grinder built in.
2. Cut the Fat in the Sauté Step.
Many soup recipes begin by cooking and stirring aromatic vegetables—e.g., onions, garlic, peppers, ginger—in butter or oil.
You can slash the fat in most traditional recipe by cutting down to a few teaspoons or tablespoons of oil or butter. The results are still delicious (the vegetables are softened and slightly caramelized), and the technique can be applied to other soups in your repertoire. Note that if the vegetables stick a bit, simply add a small amount of broth or water to the pan.
3. Don't Go Stir-Crazy
In the first phase of cooking the soup (i.e., cooking and stirring the onions, aromatics, and other vegetables), don't stir the vegetables too often; once every two minutes or so is plenty. This helps them brown, caramelizing their sugars. That, in turn, will further enhance the flavor of the soup without adding excess fat.
4. Puree Soup in Blenders, in Small Batches
When making pureed soups, use a blender for the creamiest texture. A food processor will give a slightly grainy texture. Handheld immersion blenders are excellent when you only want to blend soups a little bit, but they are not effective for making creamy purees.
Be sure to purée in small batches and crack the blender lid slightly (or remove the center cap from the lid). Steam can build up once you start blending, and if the lid is on tight or the blender is overfilled, it will spray hot soup all over you and your kitchen. For protection, cover the top with a dishtowel while puréeing.
5. Steer Clear of HIGH Heat.
As one who has scorched her fair share of soups in days gone by, I urge you to consider the following: keep the burner dial away from HIGH, even when bringing soup to a boil. It can take mere seconds for a soup to scorch if left unattended boiling at high heat.
6. Handle Dairy Additions with Care.
Follow the directions carefully for adding dairy products to soup. Keep the heat relatively low to prevent the dairy product from separating; boiling will create an unpleasant texture. If you're making a soup ahead of time, prepare it up to the point of adding the dairy, then cool and store. Reheat the soup when ready to eat, adding the dairy for a quick heating just before eating.
7. Give Yourself Permission to Use Ready-Prepped Ingredients
Sure, fresh is best. But when you're exhausted and hungry, my position is that a homemade soup made with a few shortcuts is still so much better—both in terms of taste and good health— than fast food. So go head and plan for those emergency moments and stock the pantry and freezer with plenty of ready-made broths, vegetables, rice, beans, and pasta.
8. Cut Vegetables Small for Faster Cooking.
A 1/2-inch size chop or dice needs no more than 10 minutes of simmering before it's soft, speeding soup to the table in no time.
9. Head to the Deli Counter for Cooked Meat & Poultry.
You don't need to simmer meat and poultry for hours on end to pack a healthy and flavorful addition to almost any soup. Instead, head to the deli counter of your supermarket for a wide selection of fully cooked meats. Shred the meat from deli rotisserie chicken (discard the skin, and freeze any leftover meat for future meals), or request thick cuts of roast beef, smoked turkey, and ham, then easily dice into small pieces at home.
10. Add Instant Dazzle with a Drizzle, Splash, or Sprinkle.
Elevate any Enlightened Soup, whether for everyday or entertaining, with a sprinkle or drizzle of one of the following: a few shavings of Parmesan cheese, made with a vegetable peeler, flavorful oil (fruit extra-virgin olive oil, hazelnut oil, toasted sesame oil), finely grated citrus zest, or ready-made condiments such as black olive tapenade, sun-dried tomato tapenade, or basil pesto. A very small splash of citrus juice (lemon or lime), red wine vinegar, cider vinegar, or good-quality balsamic vinegar, can brighten and enhance the flavors of many soups, too.
Dijon Vegetable Chowder
Total Time (Prep + Cooking): 60 minutes
Creamy and rich—despite containing neither cream nor butter—this soup wards off winter with every spoonful. Don't skip the addition of the Dijon mustard—it adds tremendous flavor and depth in one easy step.
1 tablespoon olive oil
2 cups chopped onion
2 medium red bell peppers, seeded, diced
2 teaspoons dried basil
3 cloves garlic, minced
3 cups 1% lowfat milk
3 cups low-sodium chicken or vegetable broth
2 cups water
4 medium baking potatoes (about 2 and 1/2 pounds), peeled and cut into 3/4-inch cubes
1 16-ounce bag frozen white or yellow corn
1 tablespoon Dijon mustard
1 16-ounce bag frozen cut green beans
Heat the oil in a large saucepan set over medium heat. Add the onion, bell peppers, and basil. Season with salt and pepper. Cook and stir 5 minutes. Add the garlic, milk, broth, water, and potatoes. Bring to a boil, then reduce heat and simmer, covered, until potatoes are almost tender, about 10 minutes.
Stir in corn and simmer 2 minutes. With a slotted spoon, transfer 3 cups of the solids and 1 cup liquid to a blender. Add the mustard and puree until smooth. Return to pot and add green beans. Bring to a simmer, cooking 8 minutes or until beans are tender. Season with salt and pepper to taste. Makes 8 servings.
Sue Doeden is a popular cooking instructor, food writer and integrative nutrition health coach. She is the host of Good Food, Good Life 365 on Lakeland Public Television. Her own hives full of hardworking bees and her love of honey led to the creation of her recently published cookbook, Homemade with Honey.