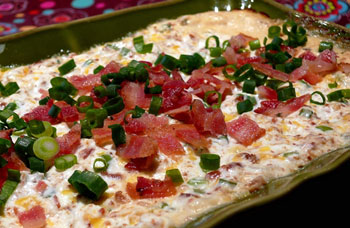 I subscribe to a lot of magazines, probably at least fifty. I love reading publications about cooking, wine and design. I am never without a large pile of them on the coffee table.

In many magazines this month, I kept seeing this recipe on an advertisement page for Daisy Sour Cream. It was haunting me. Of course my eyes gravitated and fixated on the words "bacon", "dip" and "warm" every time I came to a page with this recipe printed on it. Not only was it haunting me, it was calling to me. However, I know I've said it here before, I believe "dip" should be it's own food group, and I can rarely pass one up, but the list of ingredients included bacon bits, something I don't normally buy. So I kept looking away.

Then it happened, I found bacon bits in my pantry. I do not even remember buying them. I went digging through the magazines in the recycle bin to find this recipe and now all is right with the world. What a mouthful of bacon in every bite. What could be better.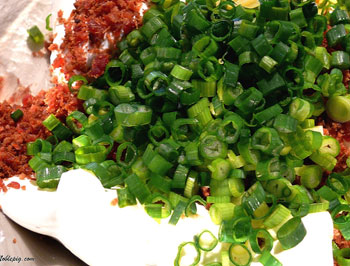 This is one of those "deadly dips" that can be polished off before you even know what happened. Don't ask me how I know that. Gah!

I suppose with the Superbowl coming up we'll have to make this again, because it's not Superbowl without dip.

I ended up adding real bacon and extra green onion for garnish. I suppose you could save some of the bacon bits and use them on top instead. The perfect game day snack.

Serve with sliced French bread, crackers and/or chips. Could this be any easier?

Warm and Creamy Bacon Dip
Adapted from Daisy Sour Cream

8 ounces softened cream cheese
2 cups sour cream
3 ounces bacon bits
2 cups shredded Cheddar cheese
1 cup chopped green onion, more for garnish
Chopped bacon for garnish, optional

Bring cream cheese to room temperature. Preheat oven to 400 degrees. In a bowl, combine all ingredients. Place in a 1-quart baking dish. Cover. Heat 25-30 minutes or until hot.

Serving Option: Dip may also be placed in hollowed round sourdough loaf, wrapped in foil and heated in 400 degree oven for 30 minutes.
Cathy is currently in the development stages of her vineyard and winery in the Willamette Valley of Oregon. She is a food writer for Davis Life Magazine and blogs daily about wine, food and everyday living. She lives with her husband and two sons. You can visit her at noblepig.com.