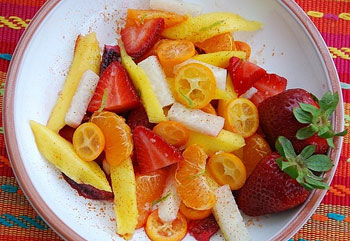 If you ever visit a San Diego farmers' markets, then chances are you'll see several people milling around who are holding tall, clear plastic cups filled with deliciously ripe fresh fruit such as mangoes, pineapple, and watermelon that have been doused with lime juice, salt, and chili pepper. They may be eating the fruit with a long toothpick (or just with their hands, if they don't mind sticky fingers).

These fruit cups, called copas de frutas in Spanish, are the inspiration for today's recipe: salty, sweet, and tangy Chili Lime Fruit Salad. I have incorporated seasonal fruit such as fresh strawberries, blood oranges, and kumquats, but feel free to substitute what's available where you live.

I added jicama (pronounced hee-kah-mah), also known as a Mexican potato or turnip. It's a large, dense root vegetable with a thin beige peel and a juicy, creamy white flesh. What does jicama taste like? Jicama tastes sort of like a cross between an apple, a potato, and celery. It's mildly sweet and exceptionally crunchy, like a water chestnut.

For your Mother's Day breakfast, serve the fruit salad in individual bowls or glasses, or if it's easier, in one large dish, family-style. It'll be delicious no matter how it's served.


Chili Lime Fruit Salad
Serves 6-8

This salad is highly versatile. Feel free to substitute any fresh fruits you prefer or that are in season where you live. Navel oranges, pineapple, watermelon, cantaloupe, and kiwi are delicious alternatives. For the fullest flavor, serve fruit at room temperature.

2 medium ripe mangoes peeled and cut into thin slices
2 clementines, peeled and sectioned, with white pith removed
2 blood oranges peeled and sectioned, with white pith removed
1 pint strawberries, rinsed, hulls removed, and quartered
1/2 cup jicama, peeled and cut into 1-inch long pieces
1/3 cup sliced kumquats
2 limes
cayenne pepper
coarse sea salt
lime zest curls, for garnish

Place the fruit in a large bowl, and gently toss. Start by sprinkling the fruit with the juice of 1 lime, and season with cayenne pepper and sea salt. Taste it. Then adjust seasonings accordingly. Place in a serving bowl or dish, and garnish with lime zest curls. Serve at room temperature.

Alternative garnishes: unsweetened shredded coconut and fresh chopped cilantro or mint.
Susan Russo is a free lance food writer in San Diego, California. She publishes stories, recipes, and photos on her cooking blog, <Food Blogga and is a regular contributor to NPR's <Kitchen Window. She is also the author of two upcoming books that will be published in the fall of 2010.