Summer Squash Stuffed with Vegetables and Quinoa
by Joseph Erdos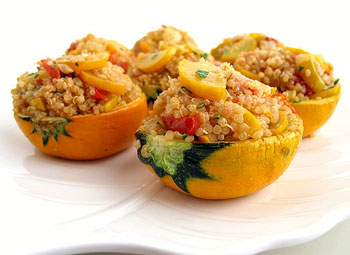 Everyone loves summer squash and zucchini—they're easy to cook, eat, and grow. But when you don't have the space, the farmers' market is a great place to get your favorite vegetables. I know I always leave with at least a bagful of fresh produce. Everyone recognizes long green zucchini or crook-necked yellow squash, but there are so many more shapes and sizes to choose from. And each size or shape lends itself to different ways of cooking, but one of my favorites is stuffing them.

Squash aren't just for sautéing or steaming. These round summer squash, once roasted, are the perfect vehicle for a number of different fillings. Serve these little packages as appetizers at a summer party or for a family dinner. Meat fillings are always popular, like ground beef or pork. But during summer, when you're not in the mood for a heavy meal, a vegetarian option is always a pleasant respite from all the steaks and hamburgers.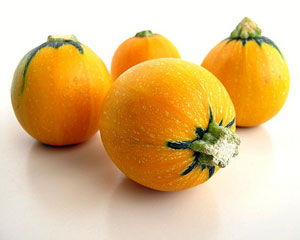 I love to see what the farmers are growing during the dog days of summer. This time I stopped by Sherwood Farm in Easton, Conn. and bought a bunch of vegetables, including the squashes for this recipe.
For the filling I use quinoa, the nutty flavored grain that's packed with protein. Combined with sauteed vegetables and stuffed into the squash halves, it makes a flavorful dish.
Make this easy recipe and serve it hot or warm as an appetizer or side. It's a refreshing addition to any summer celebration table.


Summer Squash Stuffed with Vegetables and Quinoa

Note: Cook quinoa according to package instructions: 1 cup quinoa plus 1-1/2 cups water, simmered for 12 to 15 minutes. Yield: 2 cups.

4 small round ball summer squash, halved lengthwise and seeded
olive oil
fine sea salt
freshly ground black pepper
1 small yellow onion, chopped
2 garlic cloves, finely chopped
1 Hungarian wax pepper, seeded and chopped
1 yellow or green zucchini, sliced into half-moons
2 medium tomatoes, seeded and chopped, juices reserved
1 cup cooked quinoa
1/4 cup chopped parsley

Preheat oven to 350 degrees F.

Rub insides of squash halves with oil and season with salt and pepper. Place cut-side down on rimmed baking sheet. Roast until tender, about 15 to 20 minutes.

Warm 2 tablespoons oil in a large saute pan set over medium-high heat. Saute onion until soft and translucent, about 3 to 5 minutes. Add garlic and saute until fragrant, about 1 minute. Add pepper and zucchini, saute until tender, about 5 to 8 minutes. Add tomatoes and their juices; cook until soft, about 5 minutes. Stir in quinoa and parsley. Season with salt and pepper and additional oil if needed.

Divide filling among squash halves, spooning until nicely mounded. Serve warm or at room temperature.
Yield: 8 servings as an appetizer or side dish.
Joseph Erdos is a New York–based writer and editor, butabove all a gastronomer and oenophile. He shares his passion for foodon his blog, Gastronomer's Guide , which features unique recipes and restaurant reviews among many other musings on the all-encompassing topic of food.
Mid-Atlantic


by

Rachel Parker





In my neck of the woods—the Jewish side of a New Jersey town—we didn't even consider biscuits. Dough was for bagels and bialys. Biscuits were either something we gave the dog, or something popped...

Read more...

New York


by

Libby Segal





It's Sunday morning, and the last thing I want to hear is a discrete ringing sound, calling out from my computer, to alert me that I have mail. I ignore my computer, throw on my jeans, and catch...

Read more...

Los Angeles


by

Laraine Newman





So, I was like, driveen in the valley 'n' stuff? And I like drove past a shop that said Artisan Cheese Gallery, 'n' stuff? And I was like "wait, did I just, um, this is like the valley, ok? And...

Read more...

Los Angeles


by

David Latt





People who don't live in Southern California forget that in the winter, the temperatures can drop into the 40s and even the 30s at night. That's mild compared with the weather experienced by our...

Read more...