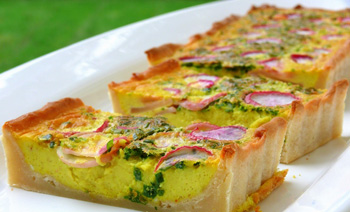 It's true, radishes are often considered the "Rodney Dangerfield" of vegetables...no respect. But that's too bad because they are so much more than an afterthought, a garnish or a decoration.

They are spicy and delicious and add great texture to any dish. And look at the color they give this amazing tasting tart.

My love of radishes begins in Paris...strolling the Seine, grabbing a baguette, a crock of butter, a bunch of radishes and some sea salt from the street vendors. Finding a bench and plopping down to people watch while dipping the peppery radishes into the soft butter and sprinkling them with sea salt. A bite of bread and it's heaven. Those were the days.

This is a beautiful spring dish. I served it yesterday alongside roast chicken for friends. The perfect side with a light green salad. You can serve it warm or room temperature, you'll love it!
Spring Radish Tart
Adapted from Cuisine at Home

Crust:
1 cup all-purpose flour
1 Tablespoon powdered sugar
1/4 teaspoon table salt
4 ounce cold cream cheese, cubed
3-4 Tablespoons ice water
1 egg white, lightly beaten (for brushing)

Filling:
3 eggs
2 egg yolks
2/3 cup heavy cream
1 teaspoon kosher salt
3/4 teaspoon curry powder
1/4 teaspoon ground coriander
1/4 cup chopped fresh chives
1 cup thinly sliced red radishes (5 oz)

Preheat oven to 400o F. Coat a 9" rectangular, round or square tart pan with removable bottom with nonstick spray.

For the crust combine flour, powdered sugar and table salt in food processor. Add cream cheese and ice water; pulse to form a ball around the blade. This dough is forgiving so don't worry about overmixing. Remove dough, cover in plastic wrap and chill 30 minutes. (Dough can be made a day ahead.)

Press dough into prepared pan. Freeze crust 15 minutes. Line crust with foil; fill with pie weights like dry beans or rice. Bake tart on a baking sheet 25 minutes. Remove pie weights and foil. Dock crust by piercing with a fork, and bake 15 minutes more. Brush crust with egg white and return to oven for 2 minutes (this seals the holes from docking and keeps crust crisp).

For the filling, whisk together eggs, egg yolks, heavy cream, kosher salt, curry powder and coriander in a bowl.

Pour filling into hot crust so it begins to cook immediately instead of soaking into the crust. Scatter radish slices over top. Transfer tart to oven and bake until filling is set, 20-25 minutes. Let tart rest 10 minutes, remove from pan and serve warm or at room temperature (warm is best).
Cathy is currently in the development stages of her vineyard andwinery in the Willamette Valley of Oregon. She is a food writer forDavis Life Magazine and blogs daily about wine, food and everydayliving. She lives with her husbandand two sons. You can visit her at noblepig.com.