Simple Tiramisu
by Joseph Erdos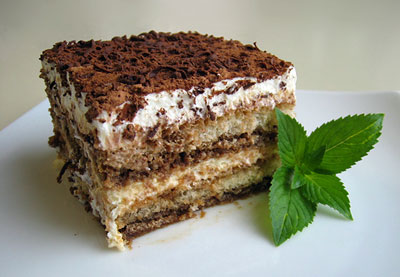 For a lazy summer afternoon, tiramisu is the perfect pick-me-up. Its literal translation is pick me up (tira mi su). Tiramisu is one of those desserts that has as many different versions as there are mothers in Italy.
This is my simple yet traditional version of the easy to assemble, no-bake, no-cook dessert.
Mascarpone can be found in Italian specialty stores usually in an 8-ounce or 17-ounce container. Feel free to use all 17 ounces if purchasing the latter size.
The tiramisu is best after it has been refrigerated overnight.

Simple Tiramisu
Note: Leave out the raw eggs if you are uncomfortable using them or use pasteurized eggs.
4 large eggs, separated
1 cup plus 1 tablespoon sugar
16 ounces mascarpone cheese
1-1/2 cups brewed coffee
1/2 cup coffee liqueur
40 store-bought ladyfingers
1 cup heavy cream
cocoa powder
bittersweet chocolate
In a large bowl, beat egg yolks and cup of sugar until light and fluffy. Stir in mascarpone until incorporated.
In a stand mixer fitted with the whisk attachment, beat egg whites until soft peaks form. Fold in beaten egg whites into mascarpone mixture.
In a small bowl combine coffee and coffee liqueur. Dip ladyfingers into coffee-liqueur mixture and lay in rows in the bottom of a 9-by-13-inch dish. Spread half of the mascarpone cream on top. Make one more layer of ladyfingers and the remaining mascarpone cream.
In a stand mixer fitted with the whisk attachment, beat heavy cream and tablespoon of sugar until stiff peaks form. Spread whipped cream on top.
Dust with cocoa powder and garnish with grated and/or shaved bittersweet chocolate. Refrigerate for at least 2 hours, preferably overnight. Yield: 10 to 12 slices.
Joseph Erdos is a New York–based writer and editor, butabove all a gastronomer and oenophile. He shares his passion for foodon his blog, Gastronomer's Guide , which features unique recipes and restaurant reviews among many other musings on the all-encompassing topic of food.

New York


by

Michael Tucker





Call out the riot squad! Barricade the streets! Lock up your daughters! The Three Fat Unemployed Actors' Lunch Club is on the loose again — this time in the far reaches of Queens at the wonderful...

Read more...

Paris


by

Jamie Wolf





The Isle St. Louis is like the Nantucket of Paris. One of the ancient islands in the middle of the Seine, with Notre Dame at its tip and many picturesque bridges connecting it to the Left and...

Read more...

London - British Isles


by

Carolan Nathan





When visiting London recently and wanting to try some of the vaunted restaurants there I was fortunate to find The Royal China Restaurant which together with its sister/brother Sun aptly called...

Read more...

Los Angeles


by

Telly Kousakis





Unless you've been living under a rock you've likely heard of Kogi BBQ, LA's twitterific Korean-Mexican fusion truck. If not, allow me to introduce you. The Kogi BBQ fleet, now three trucks...

Read more...