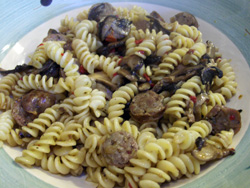 It's been a long day. All you want to do is get home but traffic is terrible. Finally you're home, ready for dinner. You thought about stopping for take out or picking up something from the prepared food section at Whole Foods but you didn't want to be around people. What you needed was to take off your clothes, slip into your PJs, sit in front of the TV, and watch the Daily Show and then Colbert. Now all you have to do is deal with the fact that you're starving.

You open the refrigerator and stare at a chaos of jars, bottles, and plastic bags. The only thing that looks immediately edible is a week old bagel. You could slather on some butter and call it a night but that would be depressing. The magnetic sticker on the refrigerator has Domino's phone number. A large pizza with pepperoni is a phone call away. And then you have an epiphany--untold generations of Italians are sending psychic waves through the ether--Eat Pasta.

Pasta cooks in 10 minutes, the sauce, in another 10, make a salad and in 30 minutes you can be eating a meal that's reviving, healthy, and inexpensive. A basic sauce has only a few ingredients: olive oil, garlic, onions, sea salt, pepper, and cheese. Add chicken and broccoli. Or, shrimp and spinach. Black kale, bacon, and leeks. Roasted tomatoes and meatballs. Pasta is infinitely variable.

For dinner tonight we had fusilli with Italian sausages, garlic, onions, mushrooms, and red peppers. Very basic, very delicious.

Fusilli with Sausages and Red Peppers

If you want a vegetarian version, leave out the sausages and chicken stock. Grilling or sautéing the sausages puts a crust on the outside. The red pepper can be raw or grilled. For the sauce, chicken stock works well but pasta water is good too.

2 Italian sausages, washed, cut into ¼" rounds (grilled or sautéed)
2 garlic cloves, peeled, finely chopped
½ yellow onion, peeled, finely chopped
6 mushrooms, brown or shiitake, washed, dried, thin sliced
¼ cup finely chopped red pepper (raw or grilled)
1 cup pasta water or chicken stock
Sea salt and pepper
1 tablespoon olive oil
½ box De Cecco fusilli
2 tablespoons kosher salt
1 tablespoon sweet butter
¼ cup grated cheese, Romano or Parmesan

Make the pasta first. Boil a gallon of water with 2 tablespoons of kosher salt, add the fusilli, stir frequently, and cook until al dente. Turn off the flame. Strain the pasta. Reserve 1 cup of the pasta water. Return the pasta to the pot, add the butter and stir.

Heat the oil in a sauté pan, add the garlic, onions, mushrooms, and red peppers, stir and cook until lightly browned. Add the sausages and deglaze the pan with the pasta water or stock. Stir frequently over a medium flame to thicken the sauce. After 5 minutes, add the cooked pasta and continue reducing the sauce, stirring to coat the pasta.

Serve with the grated cheese.
David Latt is an Emmy-award winning television producer who turns to cooking to alleviate stress. He shares his experiences with food and his favorite recipes on his blog Men Who Like To Cook.