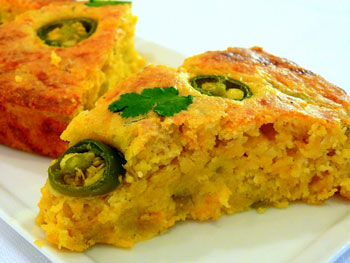 If you are planning a Cinco de Mayo feast, you are going to need a satisfying side dish to accompany your meal. A Savory Mexican Cornbread is the perfect canvas for sopping up the sauce. And for those of you who can't have your food touching (you know who you are) it's okay to keep it on a separate plate.
This cornbread does not have a dense, hockey puck-like consistency. Instead it is cakey and very moist. Void of any overwhelming flavor, it makes the perfect sidekick for an already flavorful meal. It melds nicely.
I know lots of people stick with their Jiffy cornbread from a box but this has such a better consistency and does not take much effort to put together. If you are like me and enjoy your cornbread sweet, butter and honey are a stunning addition to each slice. You must try it.
Savory Mexican Cornbread
Inspired by Easy Mexican Meals
1-1/2 cups (6 oz) shredded sharp Cheddar cheese
3/4 cup buttermilk
1/3 cup vegetable oil
2 eggs
1 can (8.5 oz) cream-style corn
1 can (4 oz) chopped green chiles
1 cup cornmeal
1 cup all-purpose flour
1 teaspoon baking powder
1/2 teaspoon baking soda
1/2 teaspoon salt
Optional garnishes: Jalapenos, cilantro, honey and butter
In a large bowl mix cheese, buttermilk, vegetable oil, eggs, corn and green chiles. In another bowl mix cornmeal, all-purpose flour, baking powder, baking soda and salt. Add to cheese mixture; stir just until dry ingredients are moistened.
Generously spray a 1-1/2 quart casserole dish with cooking spray. Pour mixture into casserole. I garnished the top with some jalapenos and cilantro but it's totally optional. Bake 40 to 50 minutes in a 375°F oven or until cornbread is a deep golden brown and toothpick inserted in center comes out clean. Cooking times are going to vary based on width and height of the pan you use. My dish was 10" in diameter and 1-3/4" deep. My cooking time was 41 minutes.
Cool in the pan 10 minutes and slice into wedges. Serve warm. Drench in honey and butter if you desire.
– Recipe courtesy of The Noble Pig