Sangria with Sparkling Wine and Stone Fruit
by Joseph Erdos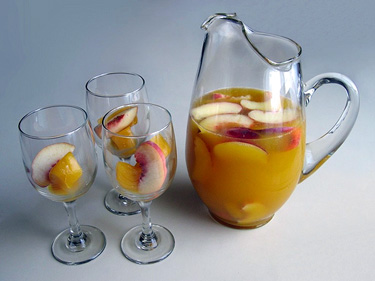 For an excellent summer refresher, perfect for a picnic or party this upcoming Labor Day, how about trying this recipe for sangria? Using in-season stone fruit, this recipe is the perfect way to celebrate (or mourn) the end of summer. Feel free to use whichever fruit you choose, but it is especially nice with fresh, ripe stone fruit such as peaches, nectarines, and/or plums. Mangoes, pluots, or cherries would also make a nice addition. I happened to use a white peach, a white nectarine, and a white pluot.
For the spirit, a peach or plum brandy works especially well (try a plum Palinka from Hungary), but any other brandy works fine too. Many white wine sangria recipes call for the addition of sugar and soda, but there is no need if you use a sweet sparkling wine. Sweet sparkling wines such as Asti, semi-seco Cava, demi-sec Champagne, or Prosecco work the best.
The addition of peach nectar to the sangria is reminiscent of a Bellini, a cocktail of Prosecco and peach purée that was invented in the late 1930s at Harry's Bar in Venice, Italy. So, if like me you were unable to take a trip this summer, grab a glass of sangria and let your mind wander.
Sangria with Sparkling Wine and Stone Fruit
Tip: Prepare peach ice cubes ahead of time so that the sangria will not get diluted by regular ice cubes.
2 cups peach nectar
1 peach
1 nectarine
1 plum
1 cup brandy
1 750-ml bottle of sparkling wine
Peach nectar ice cubes (about 2 cups nectar)
Slice fruit into wedges and add to pitcher with brandy. Let macerate covered in the refrigerator for up to an hour. Add peach nectar and sparkling wine. Add ice cubes. Serve and enjoy. Yield: 2 quarts.
Joseph Erdos is a New York–based writer and editor, butabove all a gastronomer and oenophile. He shares his passion for foodon his blog, Gastronomer's Guide , which features unique recipes and restaurant reviews among many other musings on the all-encompassing topic of food.

New England


by

David Latt





In the mid-1970s, when I lived in Providence the food wasn't very good. Sure there was great local seafood, especially clams and lobsters, but if you wanted to eat out, your choices were pretty...

Read more...

Mid-West


by

Sue Doeden





Have you noticed how easy it is to make a meal of just appetizers at a restaurant? On a trip to the Twin Cities last week, my husband and I paid our first visit to 112 Eatery. Located in the...

Read more...

Arizona


by

Lisa Dinsmore





One of the things I love most about traveling is finding out-of-the-way places to visit. Especially ones that have a cool history to go along with their surroundings. Which is how we found...

Read more...

Colorado


by

Haley Schultheis





If there is one type of restaurant certain to make a list of things I adore, it's a cozy bakery and café. There is a peaceful and neighborly feel about such a place. Yes, Tiffany's is to Holly...

Read more...