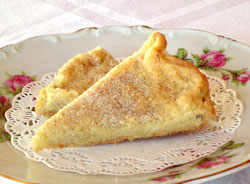 About a month ago, I shared a recipe for buttery shortbread. In a cooking class I taught recently at my local natural foods co-op, we made the same shortbread, only rather than using 1/2 cup cake flour as my original recipe instructed, we used brown rice flour. It gave the shortbread a much creamier, more tender consistency. It was delicious. I thought it couldn't get any better.
Until today. I crushed some dried lavender buds, minced up some crystallized ginger and worked them into the rich dough. A sprinkling of Mrs. Kelly's Lavender Rose Sugar was the icing on the cake, or the cookie, I guess.
I first discovered dried lavender buds when a friend of mine from Pennsylvania, who also teaches cooking classes, shared a recipe for an appetizer of lavender infused honey over goat cheese. At that time, I wasn't able to find the culinary-grade dried lavender locally. Eventually, I bought a jar from Wayzata Bay Spice Co. I had so much fun experimenting with the lavender. It's delicious mixed with anything lemon. I developed a recipe for a lemon-curd type filling that I added lavender to and then baked it in a shortbread crust. It's been a favorite in my springtime cooking classes.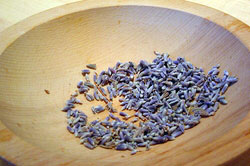 These days dried lavender buds are much easier to find. In fact, McCormick's has added it to their Gourmet Collection. I received a bottle of it at the International Association of Culinary Professionals (IACP) conference that I recently attended in New Orleans. Food-grade dried lavender buds can also be purchased from places like The Spice House and Penzey's.
Lavender can be added to sugar cookies, pound cake, sauces. Add it just a little at a time, though. A little goes a long way. Crystallized ginger is available in most grocery stores. Chunks of ginger root are simmered in a sugar syrup and then dried, leaving a coating of sugar on chewy, candy-like ginger. It adds bright, fresh flavor to this shortbread and marries nicely with the unique flavor and fragrance of the lavender.
You may be familiar with Mrs. Kelly's Teas. But, you might not know about the unique sugar blends that she has available on her web site. Her Lavender Rose Sugar is a blend of raw sugar, ground rose petals and ground lavender. It adds wonderful flavor to sugar cookies. And try stirring it into a cup of tea. If you make your own ice cream, use this delicious sugar for half of the sugar in your favorite vanilla ice cream recipe. That vanilla ice cream will become very gourmet.
Shortbread is not difficult to make. I like this recipe because it makes 16 triangle-shaped cookies. For a Mother's Day gift, wrap each individual wedge of shortbread in plastic wrap. Pack them into a pretty tin. Put the tin in a basket along with some tea -- Earl Grey is nice. Add a handwritten note. Watch mom smile.

Lavender-Ginger Shortbread
1 1/2 cups all-purpose flour
1/2 cup brown rice flour or cake flour
1 cup powdered sugar
2 teaspoons dried food-grade lavender buds, crushed (a mortar and pestle works well)
1 cup butter, chilled
3 tablespoons very finely minced crystallized ginger
Preheat oven to 350°F.
Line 2 (8-inch) round cake pans with parchment paper so that it comes up over the sides of the pans. Set aside.
In a large mixing bowl, place both flours, powdered sugar, salt and crushed lavender. Stir to mix. Cut butter into small cubes and add to dry ingredients in bowl. Use hands to mix until crumbly. Add ginger and continue to mix with hands until mixture comes together. Gather dough together and place on a work surface. Divide dough in half.
Pat each half into prepared pans. Flute the edge of each with your fingers. Pull out of the pan by holding edge of parchment paper. Place on work surface. Prick each round all over with a fork, then score with a sharp knife into 8 wedges. Pick up each round with parchment and place back into baking pans. Sprinkle 1 1/2 teaspoons of sugar over dough in each pan.
Bake in preheated oven for about 20 to 30 minutes or until golden brown on top. Remove from oven and immediately sprinkle remaining sugar over baked shortbread, 1 1/2 teaspoons on each.
Cool on wire rack. (The smell of warm butter, sugar, ginger and lavender will be seductive and you'll want to start eating the warm shortbread. But don't. The shortbread will taste best when it reaches room temperature.)
Remove shortbread from pans by pulling up on the parchment paper. Use sharp knife to cut the shortbread where it was scored, forming a total of 16 wedges.
Sue Doeden is a popular cooking instructor, food writer and integrative nutrition health coach. She is the host of Good Food, Good Life 365 on Lakeland Public Television. Her own hives full of hardworking bees and her love of honey led to the creation of her recently published cookbook, Homemade with Honey.