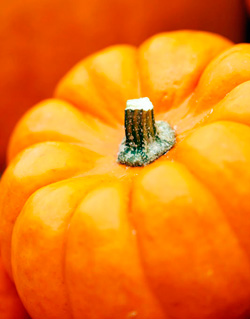 Pumpkin pie has been typecast. It always plays the same role: The Thanksgiving Day Dessert.

This is unfortunate because pumpkin pie has great range and versatility. In addition to being a great lead, it's a talented supporting player too. Think of the possibilities: pumpkin pie muffins, pumpkin pie cheesecake, and my favorite, pumpkin pie pudding.

Every year, weeks before Thanksgiving, I would anticipate my mom's pumpkin pie: a light, flaky crust filled with sweet, custardy, walnut studded, spiced pumpkin. The only thing better than a slice of her pie on Thanksgiving Day with a dollop of whipped cream was a slice of her pie the next morning for breakfast. To me, nothing beats chilled pumpkin pie.

So it wasn't unusual when one fall day a couple of years ago, I had a serious hankering for my mom's pumpkin pie that couldn't be satisfied. Sure, I could have called her for the recipe, but it never would have tasted as good, and buying one was out of the question. I reluctantly decided to make vanilla pudding with pumpkin pie spice instead. It was so good that the next time I made it, I added canned pumpkin and nuts. After several more experiments and many happy mouthfuls later, I present Pumpkin Pie Pudding with Candied Pecans and Whipped Cream.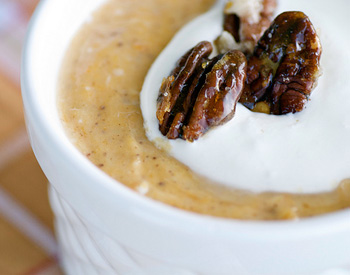 This pumpkin pie pudding is ideal for those of you who don't have the time or the desire to make pumpkin pie from scratch. It's a deliciously fast, easy, and satisfying fall and winter dessert that can be whipped up in no time. I find pumpkin pie spice (a mixture of allspice, cinnamon, ginger, and nutmeg) is the easiest and surest way to season the pudding, but feel free to experiment with any spices that suit your taste. If you really need something crust-like, then make a quick mixture of spice-laced toasted oats, nuts, and brown sugar to sprinkle on top.

Of course, you could still have traditional pumpkin pie on Thanksgiving Day. But if you can't wait until then, make yourself a batch of this rich and creamy pumpkin pie pudding. You won't be disappointed.


Pumpkin Pie Pudding with Candied Pecans and Freshly Whipped Cream
Makes 4 small or 2 large servings

Pudding:
2 cups whole or low fat milk
6 tablespoons granulated sugar
2 tablespoons corn starch
a pinch of salt
1 large egg, lightly beaten
1 teaspoon pure vanilla extract
1/2 cup canned pure pumpkin
1/2 teaspoon pumpkin pie spice

Candied Pecans:
2 tablespoons unsalted pecan halves
1 tablespoon granulated sugar
pinch of salt

Whipped Cream:
1/2 cup heavy whipping cream
1 tablespoon sugar

Combine sugar and cornstarch in a medium pot over medium heat. Add 1 cup of milk, whisking until the sugar and cornstarch are dissolved. Add the second cup of milk and salt, and bring to a simmer, stirring frequently. Lower the heat, cooking pudding for 10 minutes, stirring frequently. Remove pudding from heat for 2-3 minutes. Lightly whisk one egg with vanilla extract; slowly add to the pudding, whisking constantly. (Removing it from the heat will prevent the egg from cooking). Stir in the pumpkin and pumpkin spice. Simmer for 2-3 minutes, or until thick, stirring several times. Remove from heat and place in serving dishes.

Before you make the candied pecans, lay a piece of tin foil coated with cooking spray on the counter. Also coat your utensil with cooking spray so the sugar won't stick to it. In a medium non-stick skillet over medium heat, add the pecan halves. Sprinkle sugar and salt evenly over them. As the sugar begins to melt and coat the pecans, quickly stir them until evenly coated and lightly toasted, about 1-2 minutes. Remove from heat and slide nuts onto the tin foil, including any sugar drippings. (Avoid browning the nuts as the sugar will taste burnt.) Let cool and harden, then chop into small pieces.

Before you begin to make the whipped cream, consider these helpful tips: Start with a deep stainless steel bowl that has been chilled in the freezer for about 15-20 minutes. Chill the beaters of the electric mixer as well. Both will help to create more volume in the cream. Once ready beat ½ cup heavy whipping cream on medium-high speed until soft peaks form. Sprinkle sugar evenly over the whipped cream and beat until peaks re-form. Whipped cream can be covered with Saran Wrap and refrigerated for 1-2 hours.
Susan Russo is a free lance food writer in San Diego, California. She publishes stories, recipes, and photos on her cooking blog, <Food Blogga and is a regular contributor to NPR's <Kitchen Window. She is also the author of two upcoming books that will be published in the fall of 2010.