Prune Plums
by Jeanne Kelly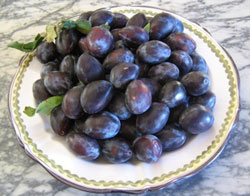 My brother Brad and his wife Cynthia brought a giant bag of tree-ripened, sweet prune plums from their place in Hood River, OR down to Los Angeles recently. I felt a bit of a pig, but I basically took all of the fruit – (they said there was more on the tree!) I redeemed myself though with a little lipstick, a great hors d'oeuvre and a wonderful tart for a family get-together.
Halved, pitted prune plums topped with a little goat cheese, chopped fresh marjoram, and a coarse grating of black pepper that are then wrapped in a piece of speck (like smoked Prosciutto) are delicious.
For a simple prune plum tart: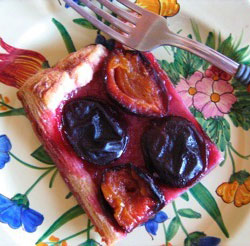 Roll out 1 sheet (about 8-ounces) of thawed frozen puff pastry (I particularly like Trader Joe's all butter puff pastry) on lightly floured parchment to a 10x13-inch rectangle. Transfer the parchment with the pastry to a heavy, large, rimmed baking sheet. Sprinkle pastry with 3 tablespoons sugar. Top with halved, pitted prune plums and sprinkle with 3 more tablespoons sugar. Bake in a 400 º F. oven until pastry is golden brown and prunes are tender, about 40 minutes.
As my pile of prune plums was dwindling, I just happened upon a food dehydrator at the Goodwill. What luck! An unused Ron Popeil stacking contraption for 7.99. I made prunes with the rest of the plums, but I may have over-dried the fruit slightly. It may take a while for me to get a handle on my new toy.
Jeanne Kelley is an established food writer, recipe developer and food stylist based in Los Angeles, California. Integrating locally grown produce with globally influenced flavors, Kelley's approach to cooking is both simple, festive and fresh. Her recipes can be found in her latest book is Blue Eggs and Yellow Tomatoes: Recipes from a Modern Kitchen Garden
and on her blog Eat Fresh.
Southern California


by

Lisa Dinsmore





I'm an obsessive travel planner. I leave nothing to chance when venturing far away from my home. I need a lay of the new land to feel safe and happy. I don't always do everything or go to every...

Read more...

Los Angeles


by

Lisa Dinsmore





Though I've lived in Los Angeles for two decades, I still don't consider myself an Angeleno. Mostly because we rarely do anything that's considered interesting or hip in this vast and...

Read more...

San Francisco


by

Scott R. Kline





Redrum Burger in Davis, CA sits catty-corner to an In-N-Out Burger just off the freeway. Redrum was there long before In-N-Out and judging from the line at lunch time on a recent Thursday, they...

Read more...

Chicago


by

Lisa Dinsmore





I love the fact that my husband is from a different part of the country than I am. Before I met and married him, my experience of America was limited to either coast. Now, every year, I get to...

Read more...