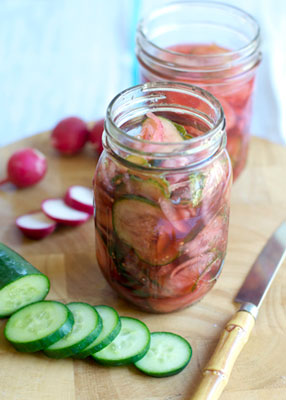 Isaac and I have established that a burger isn't a burger without pickles. We both agreed that our pulled pork sandwiches (last night's dinner) was no exception to the pickle rule. I love pretty much anything pickled. I have been a pickle lover ever since I could remember.
Growing up, my elementary school, Erwin Street Elementary had a fall festival each year. Some classrooms had a different game theme, one classroom housed all the prizes where one could "buy" stuff with the winning tickets.
Yet, my most favorite classroom of all had a huge barrel filled with the fattest pickles I had ever seen. The classroom with the barrel of pickles was the place I searched out first. I could still remember what they tasted like. And I can still remember the feeling I got with that first bite of that sour, tart pickle!
Each summer I end up pickling some sort of veggies. This past week I choose English cucumbers, radishes, and purple onions. I also threw in a shallot, sliced thin! The pulled pork could stand on it's own, but adding these veggies made it that much better.
Pickled Vegetables
original recipe here
yield: 4 cups

Ingredients:
1 English cucumber, sliced thin
1 small red onion, sliced thin
10 radishes, sliced thin
1 shallot, sliced thin
3 Tbls. coarse salt
2 cups cider vinegar
1 cup sugar
1 Tbls. whole black peppercorns
2 tsp. mustard seeds
2 tsp. whole coriander seeds
Instructions:
Using a madoline
(mine is 30 years old and probably the least expensive one out there), slice veggies about 1/8″ – 1/4″ thick. Toss veggies with 2 tablespoons kosher salt in a large colander, set over a bowl. Set in fridge for an hour.
Rinse veggies well. Pat dry and place in a clean glass jar
.
Bring remaining 1 tablespoon salt, vinegar, sugar, peppercorns, mustard and coriander seeds to a simmer in a small saucepan. Simmer 5 minutes.
Pour over vegetables, let cool for 1 hour. Cover, and refrigerate overnight or up to 3 weeks.
* They also make a terrific, low-cal, mid afternoon snack!
Susan Salzman writes The Urban Baker blog to explore her dedication to good food in the hope of adding beauty to the lives of her family and friends.