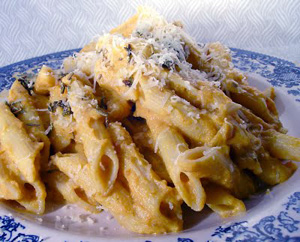 Pasta seems to be my go-to when I'm short on meal-preparation time. Not only does it cook in just minutes, but it pairs nicely with a variety of vegetables and sauces. Last week I made a sauce of penne, pumpkin and Parmesan.
When I came upon a recipe for pasta with a creamy pumpkin sauce in "The Ski House Cookbook," by Tina Anderson and Sarah Pinneo, I was reminded of the delicately flavored butternut squash-filled ravioli with a sage-brown butter sauce that I had several years ago at I Nonni, an Italian restaurant in the Twin Cities.
That recipe in The Ski House Cookbook: Warm Winter Dishes for Cold Weather Fun
inspired Penne with Creamy Pumpkin Sauce with flavors reminiscent of the butternut-squash-filled ravioli I swooned over years ago. I'm not a huge fan of sage, but when the flavor is infused into the dish as whole fresh leaves of the herb saute with some onion and then simmer in white wine, it becomes a whisper that is just loud enough to detect, but not overbearing. For me, the slight essence of sage in the sauce is just right.
This pasta dish is a great example of how the versatile pumpkin feels very comfortable in both sweet and savory foods.
Penne with Creamy Pumpkin Sauce is seasonal, savory and simply delicious.
Penne with Creamy Pumpkin Sauce
1 pound uncooked penne
2 tablespoons butter
1 medium shallot, minced
4 cloves garlic, minced
6 fresh whole sage leaves
1/4 cup white wine or apple cider
1 cup pure pumpkin puree (no added seasonings), either from a can or some of your own cooked pumpkin
1 cup chicken broth or vegetable broth
1/2 cup heavy whipping cream
Nutmeg to taste
Salt and freshly ground black pepper
1/2 cup freshly grated Parmesan cheese
Toasted walnuts, broken
Bring a large pot of water to a boil. Use plenty of water. My Italian friend, Carmie, says to use lots of water for best results when cooking pasta. Once the water has come to a boil, add 1 tablespoon salt. Stir in the penne and cook for about 10 minutes or until al dente.
While pasta is cooking, melt butter in a large skillet over medium heat. Add shallot and saute for about 3 minutes. Add garlic and whole sage leaves and saute for another minute. Add wine and cook until liquid has almost disappeared. Add chicken broth and simmer for 3 minutes. Remove sage leaves and discard. Stir in pumpkin a spoonful at a time and blend well between each addition. Stir in heavy cream and half of the Parmesan.
Drain cooked pasta. Combine with Creamy Pumpkin Sauce. Season with nutmeg, salt and pepper. Sprinkle with remaining 1/4 cup Parmesan cheese and some toasted walnuts. Use as many nuts as you like. Serve immediately. Makes 4 to 6 servings.
Tip from the cook
Toast walnuts in a single layer on a baking sheet in a preheated 350-degree oven for about 6 minutes, until fragrant. Dump the walnuts onto a large clean towel. Roll and rub the walnuts in the towel. Transfer the nuts to a fine mesh strainer and shake them to remove as much of the thin, papery skin as possible. I think the walnuts taste better when some of the skin has been removed.
Sue Doeden is a popular cooking instructor, food writer and integrative nutrition health coach. She is the host of Good Food, Good Life 365 on Lakeland Public Television. Her own hives full of hardworking bees and her love of honey led to the creation of her recently published cookbook, Homemade with Honey.