Oven Baked BBQ Fries
by Cathy Pollak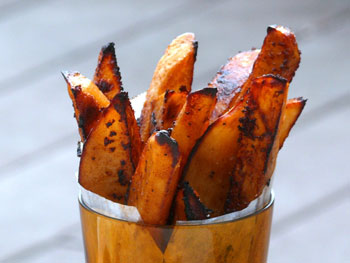 Potatoes are my kryptonite. Those of you who have been reading here for a long time know my love of potatoes. I don't care if they are mashed, baked, fried, hashed...it just doesn't matter. I can't say no to them in any form. I really try to keep my distance from them but they call to me with their siren songs. Ugh.

So what's a girl to do with five russet potatoes sitting on the counter? Cut them into thick wedges and slather them with barbecue sauce...why not. And then eat them one by one until you feel you can't stuff yourself anymore. Rinse. Repeat.

It's not like the fry itself has this overwhelming barbecue sauce flavor, but it ends up having a nice smoky-sweet background taste. So, to really drive home the whole barbecue experience,mix more of the barbecue sauce with sour cream to make a dipping sauce. Yum.

I love how the barbecue sauce adds a crispiness to the edge of the fries. Just couldn't stop eating them. Save me from myself.

Make these for your next cook out...you will love!
Oven Baked BBQ Fries
Recipe from: Created by Noble Pig | Serves: 6
Ingredients
cooking spray

2-1/4 pounds

russet baking potatoes, peeled and cut into uniform wedges

1/2 cup

barbecue sauce

1/4 cup

olive oil

1/2 teaspoon

black pepper

kosher salt

3/4 cup

sour cream

1/4 cup

barbecue sauce
Directions
Preheat oven to 425 degrees F. Prepare two large rimmed baking sheets with foil and cooking spray. In a large bowl, whisk together 1/2 cup barbecue sauce, olive oil and black pepper.
Place sliced in bowl with barbecue sauce mixture and toss to coat. Spread sliced potatoes in a single-layer on both baking sheets. Bake until golden brown and tender with crispy edges, about 20-30 minutes (depending on your oven. Rotate pans once through the cooking process. Sprinkle with kosher salt after you remove from the oven.
Combine sour cream with remaining 1/4 cup barbecue for the dipping sauce. Let fries cool off a little before eating. The inside of thick-cut fries are very hot. You will taste more flavor if you let them cool slightly.
Cathy owns a vineyard and winery in the Willamette Valley of Oregon. She is a food writer for Davis Life Magazine and blogs daily about wine, food and everyday living. She lives with her husband and two sons. You can visit her at noblepig.com.
Los Angeles


by

Telly Kousakis





After a screening of the frightening (and somewhat hilarious) Paranormal Activity my pals and I wanted to grab a drink and maybe some chow. Three of us, on separate occasions, by different...

Read more...

Italy


by

Michael Tucker





Jill was done. For three weeks I'd been force feeding her on a take-no-prisoners march through the restaurants of Italy. I had all but nailed her feet to the floor. And then four days in Rome...

Read more...

Los Angeles


by

Jo Stougaard





Chef Walter Manzke's smile is infectious. Wait, maybe I shouldn't say "infectious" since we're in the middle of the H1N1 Flu scare (I refuse to call it the OTHER name because I love my bacon).

Read more...

Los Angeles


by

Irene Virbila





Under chef Walter Manzke, the Melrose Place restaurant's third incarnation is quite the experience.


Bastide is back.