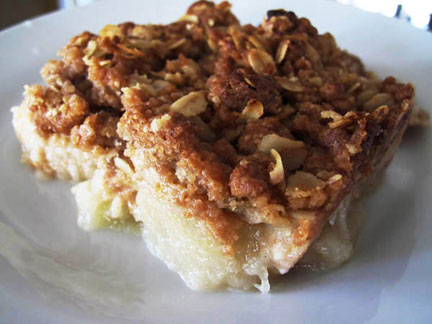 Despite the warm weather we've been enjoying in Southern California, a recent trip to my local grocery store reminded me that fall is here – pyramid-like mounds of pumpkins filled the entrance, flanked by bins of apples of every variety.
Although apples are available all year, they are particularly sweet and delicious this time of year. I generally mark apple picking season with a home-baked double crust pie, but some people still find it a daunting task. If you're one of them, make apple crisp your signature fall dish.
This is one of my favorite recipes because it produces a thicker layer of "crisp" – which frankly is the best part. The chewy, buttery, caramel flavored brown sugar oatmeal laced layer compliments the apples perfectly. Choose a variety of apples from your local growers – and try to choose organic.
The average conventionally grown apple has more pesticide residue on it than any other fruit or vegetable. According to the Environmental Working Group's analysis of USDA data, "pesticides showed up on 98 percent of the more than 700 apple samples tested (yes, they were washed)."
My Favorite Apple Crisp
Topping:
1½ cups all-purpose flour
3/4 cup packed light brown sugar
3/4 cup granulated sugar
1/2 teaspoon kosher salt
1½ teaspoon ground cinnamon
2 sticks unsalted butter, cut into 1/2-inch pieces and chilled
3/4 cup old-fashioned oats
1/4 cup chopped nuts (optional)
Filling:
1/4 - 1/2 cup granulated sugar
1 tablespoon flour
1/2 teaspoon cinnamon
1/2 teaspoon nutmeg
Juice and zest of 1/2 lemon
5 pounds apples – mixture of Granny Smith, Golden Delicious, Braeburn, peeled, cored, and cut into 1/2-inch pieces
For the topping:
1. Adjust oven rack to middle position and heat oven to 375 degrees. Pulse flour, sugars, salt, cinnamon, and butter in food processor until mixture has texture of coarse crumbs (some pea-sized pieces of butter will remain), about 12 one-second pulses. Transfer to medium bowl, stir in oats, and use fingers to pinch topping into peanut-sized clumps. Refrigerate while preparing filling.
2. For the filling: In large bowl, combine apples, sugar, flour, spices, lemon juice and zest in pour into 9x13 glass baking dish placed on a rimmed baking sheet; smooth apples evenly with spatula.
To assemble:
1. Scatter topping evenly over filling and bake until juices are bubbling and topping is deep golden brown, about 40-50 minutes. (If topping is browning too quickly, loosely cover with piece of aluminum foil.) Transfer to wire rack to cool. Serve warm. Serves 8 to 10.
Make Ahead Topping: While this crisp is best eaten the day it is cooked, the topping can be made ahead. After pinching the topping into small clumps in step 1, transfer the mixture to a zipper-lock bag and refrigerate for up to 5 days or freeze for up to 1 month.
James Moore has been a cooking enthusiast since childhood and started blogging as a way to share favorite recipes with friends and family. His site, Cook Like James has grown to include restaurants, cookbooks, wines, and favorite places.