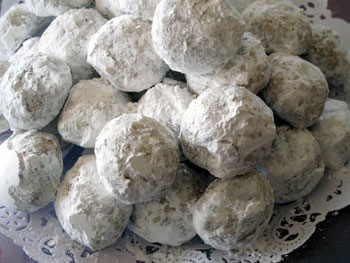 These have to be one of the quintessential Christmas cookies. They are known by many names but Mexican Wedding Cookie seems to be the most common.
There are several variations of this cookie in many countries – Biscochitos in Mexico (always made with lard), Kourabiedes in Greece, Polvorones in Italy and Spain making them a universal holiday cookie treat. It's important to use the highest quality butter when making these melt-in-your-mouth morsels.
Mexican Wedding Cookie
2 cups whole pecans or walnuts
2 cups bleached all-purpose flour
3/4 teaspoon table salt
1/2 pound unsalted butter (2 sticks), softened (preferably Plugra)
1/3 cup superfine sugar
1½ teaspoons vanilla extract
1½ cups confectioners' sugar for rolling cooled cookies
Adjust oven racks to upper- and lower-middle positions and heat oven to 325°F. Line two rimmed baking sheets with parchment paper and set aside. Finely grind 1 cup nuts in a food processor to the texture of coarse cornmeal, 10-15 seconds, then transfer to a medium bowl. Coarsely chop remaining nuts in processor, about 5 seconds, and transfer to same bowl and stir in flour and salt.
In bowl of an electric mixer at medium speed or by hand, beat butter and superfine sugar until light and creamy, about 1½ – 2 minutes with an electric mixer; beat in vanilla. Scrape sides and bottom of bowl with rubber spatula; add flour mixture and beat at low speed until dough just begins to come together but still looks scrappy, about 15 seconds. Scrape sides and bottom of bowl again with rubber spatula; continue beating at low speed until dough is cohesive, 6 to 9 seconds longer. Do not overbeat.
Working with about one tablespoon dough at a time (or using a small cookie scoop http://bit.ly/vv1g0s) roll and shape cookies into balls and place on prepared sheets about 1 inch apart. Bake until tops are pale golden and bottoms are just beginning to brown, turning cookie sheets from front to back and switching from top to bottom racks halfway through baking, 17 to 19 minutes.
Cool cookies on sheets about 10 minutes; then transfer to wire rack and cool to room temperature, about 30 minutes. Working with three or four cookies at a time, roll cookies in confectioners' sugar to coat them thoroughly. Gently shake off excess. (They can be stored in an airtight container up to 5 days.) Before serving, roll cookies in confectioners' sugar a second time to ensure a thick coating, and tap off excess.
– Recipe courtesy of Cook Like James