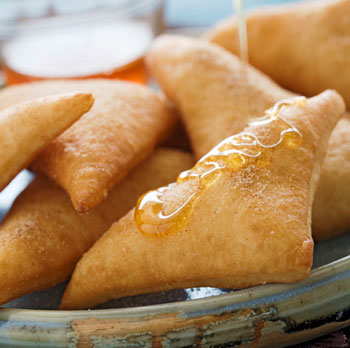 There are just some things that instantly take me back to my childhood. Sopaipillas do that to me every time. Made by my grandmother, the tender warm pillows of fried dough were sprinkled with cinnamon sugar and drizzled with honey and always disappeared within minutes. She would encourage us to eat them immediately while they were still warm, but it was always said with a wink in her eye – she knew we couldn't keep our hands off them until there was an empty plate of grease-laden cinnamon-scented crumbs.
My grandmother was the best cook I have ever known (next to my mom, of course!). She was in the kitchen every day and her way with food was astonishing, no matter what she prepared. But unlike her rice and beans, sopaipillas were for special events (as were her bunuelos, too). It was usually Christmas or New Year's Eve when she would make dough and fry it in her cast iron skillet, and I always wondered why we had to wait so long. To a child eleven months might as well be an eternity.
Traveling the world you're bound to find various versions of hot-oil-meets-dough desserts, whether it be beignets, youtiao, malasadas, loukoumades or gulab jamun. Unfortunately I adore every single one of them. But sopaipillas top my list, and not just because of their familial significance but also because they are among the most basic of all fried dough desserts. A very simple dough puffs up in the hot oil in a matter of minutes, and when drizzled with honey it's pure nirvana.
My grandmother passed away over 20 years ago, but the love she shared and the meals she prepared for us will always be in our hearts. And while I will never claim to be even remotely as talented as she was, I find comfort in having a part of her with me whenever I cook.

Sopaipillas

adapted from Taste Of Home
1 3/4 cups all-purpose flour
2 teaspoons baking powder
1 teaspoon salt
2 tablespoons shortening
2/3 cup water
oil for frying
cinnamon & sugar
honey
Combine the dry ingredients and then cut in shortening until crumbly. Gradually add water, tossing with a fork until mixture holds together. On a lightly floured surface, knead dough for 1-2 minutes or until smooth.
Cover and let stand for 5 minutes. Roll out to 1/4-in. thickness. Cut with a 2-1/2-in. star cookie cutter or into 2-1/2-in. triangles. In an electric skillet or deep fat fryer, heat oil to 375°F. Fry sopaipillas
for 1-2 minutes on each side or until golden brown and puffed.
Drain on paper towels. Sprinkle with cinnamon and sugar and serve immediately with honey.
Yields 1 dozen.
-- Also published on MattBites.com