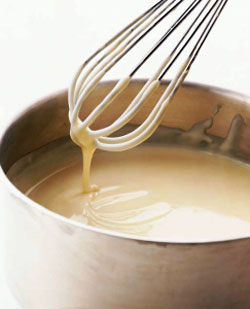 I was a lucky little girl. My neighborhood friends were envious when my mom invited me to be in the kitchen with her. It was during our kitchen sessions together that she taught me the tricks of the home-cook's trade. By the time I was 12 years old, I knew how to make macaroni and cheese from scratch. I realized later in life that not only was I creating one of my favorite meals, I was practicing the art of French cooking.
The base of the creamy cheese sauce loaded with cooked elbow macaroni was béchamel sauce. Béchamel (bay-shah-mell), one of the mother sauces of French cooking and probably the easiest to make, starts with melted butter and flour and ends with milk and cheese.
The other day I made croque monsieur, French-style ham and cheese sandwiches topped with thick, cheesy bechamel. I made more of the gruyere and parmesan-spiked sauce than I would need for the sandwiches just so I could make baked penne.
When I make béchamel sauce, I like to add a bit of flavor with an onion, a bay leaf, a few whole cloves. A bit of flour is added to the butter all at once and then stirred and cooked for a couple of minutes before adding milk. I don't add cold milk, though. I heat the milk in another saucepan. Onion, bay leaf, cloves and a pinch of thyme infuse mild savory flavor to the milk. Once the milk has heated, I pour it into the butter/flour mixture and stir as it thickens. Any of your favorite cheeses can be added to the sauce, as long as it is a cheese that melts relatively easily.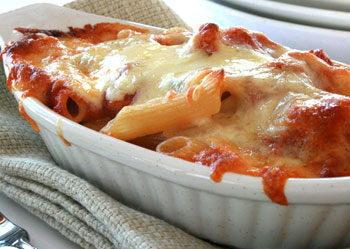 I use the same flavor infusion technique when I make tomato sauce for pasta. By putting a whole onion into the sauce as it simmers, it permeates the red sauce with wonderful flavor. When the sauce is done cooking and the onion is removed, onion-squeamish friends and family members who eat your sauce will wonder how you created such delcious pasta sauce. They will never know much of the wonderful flavor has been added from the juices of a whole onion.
Whenever I have more bechamel than I need, I scrape it into a container that seals tightly and I store it in the refrigerator for a day or two, just until I decide on how I want to use it up. When I'm ready to put it to good use, I put the chilled sauce into a saucepan and whisk in some milk as it heats. Bechamel creates a wonderful pasta sauce. Layered into a baking dish with penne and homemade tomato sauce or your favorite sauce from a jar, along with some mozzarella, the pasta dish becomes a jazzed up version of the macaroni and cheese I used to make as a young girl.
Béchamel can also be tossed with pasta along with some cooked chicken, maybe some pine nuts and whatever else you like to throw into a pasta dish. The results will not disappoint.

Baked Penne with Two Sauces
* 8 ounces penne, cooked to al dente
* 1 1/2 cups tomato sauce for pasta
* 1 cup bechamel sauce
* 4 ounces mozzarella cheese, grated
Preheat oven to 350 degrees. Cover a baking sheet with aluminum foil. Brush 4 individual shallow baking dishes or one 9-inch square baking dish with olive oil.
If the bechamel sauce is coming out of the refrigerator for this recipe, add some milk to the sauce to thin it enough so that it can easily be ladled over the pasta. I do this as I heat it slightly in a saucepan on the stove.
Use half of cooked penne to make a layer of pasta in each dish. Top with half of the tomato sauce, then half of the bechamel sauce. Repeat layers one more time, ending with bechamel on the top. If using individual baking dishes, place them on a foil-lined baking sheet before sliding into oven. This will prevent bubbling tomato sauce from landing in the bottom of your oven. Bake for 20 minutes. Sprinkle cheese over the top of the baked penne. Bake for another 5 to 10 minutes, until cheese is melted. Makes 4 servings.
Bechamel Sauce
* ¼ cup butter
* ¼ cup all-purpose flour
* 2 cups milk
* 1 small onion, peeled, studded with 3 whole cloves
* 1 bay leaf
* 1 sprig fresh thyme or a pinch of dried thyme leaves
* ½ teaspoon freshly ground black pepper
* ¼ teaspoon salt
* ½ cup grated Parmesan cheese
In a heavy saucepan, melt butter over low heat. When butter begins to foam, add flour all at once, mixing well with a wire whisk. Cook over low heat for 2 minutes, stirring constantly. Remove pan from heat and set aside.
In another saucepan, heat milk with clove-studded onion, bay leaf and thyme. Just before milk comes to boiling point, slowly pour the milk into the butter-flour mixture, whisking constantly. The onion and thyme can be removed at this time. Place the pot back on a burner turned to low heat. Continue to cook and whisk the mixture until it thickens. Remove from heat and add grated Parmesan.
Sue Doeden is a popular cooking instructor, food writer and integrative nutrition health coach. She is the host of Good Food, Good Life 365 on Lakeland Public Television. Her own hives full of hardworking bees and her love of honey led to the creation of her recently published cookbook, Homemade with Honey.