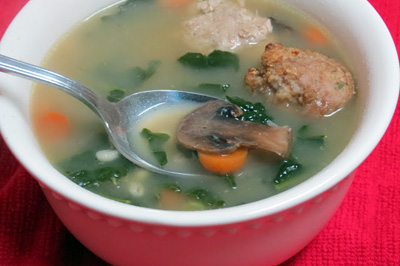 Pop Quiz: What makes two people's three dinners, two lunches, and fills a whole leftover Martha Stewart BPA-free glassware? The answer, my friends, is Italian Wedding Soup. You didn't hear it from me, but this stuff fulfills all the food groups, ensures your fill of kale for a day, and pumps you up full of vitamins. And, it's delicious.
After my mother mentioned the other night that she was making this delightfully cultural (I mean it has the word Italian in the title), I decided to embark on the journey that is soup making myself. I was prepared for an arduous trip, full of blending, food processing, slicing, and dicing. But I was wrong.

Approximately 40 minutes later, I had a delicious meal and used only 2 pots and one mixing bowl. Since we live in a pretty adorable retro house (I'm talking 1920's), there isn't a ton of counter space, though it is more than enough for me. So, it is a testament as to how simple this soup can be. My husband didn't even blink when he walked into the kitchen. Now that's a good sign.
Some Italian wedding soup recipes call for orzo, which I think would be good, but I chose to use barley, after seeing it in the grain aisle at Trader Joe's. Plus, I'm frighteningly adventurous. I also added a few chopped mushrooms to my own recipe, and made the meatballs a little bigger than I have had in the past.
The result was fabulous. Like I said, it fed my small family of two for days and days. Now we're moving on to something else, like chicken. But we'll be back to that soup.
Italian Wedding Soup
*Note: I based my recipe off this one from The Kitchn. However, I lightened it up quite a bit, omitting the cheese, eggs, garlic, and onion. I used a pinch of garlic salt, and that quickened up the process.
Ingredients:

1- 1 1/2 lb. ground turkey, or chicken (white lean meat)
3 tbsp. olive oil
1 tsp. oregano
1 tsp. garlic salt
1/2 c. Italian flavored dry breadcrumbs (I love Progresso)
8 cups organic chicken broth (low sodium is OK)
2 1/2 cups dry barley
4 cups kale, torn into small to medium sized chunks
1 cup diced carrots
1/2 cup sliced mushrooms

Method:

Heat two burners to medium heat. Coat a large saucepan with olive oil, swirling to cover all surfaces. In a large mixing bowl, combine pinch of sea salt, breadcrumbs, and ground turkey and mix thoroughly. Form into meatballs. You will likely have around 20 meatballs, 30 if you make them smaller. I made mine about the size of a large tablespoon. Place them in the well oiled pan, which should be relatively hot by now and cover loosely with a lid.
In a large 3.5 quart or bigger pot, bring chicken broth to a rolling boil, then add barley. Allow to boil for a minute or two, then bring to a bubbling simmer. Add kale, carrots, and mushrooms. Allow to simmer with the lid on your pot for about 15-20 minutes. The barley will cook itself, which is a nice little time saver. After about seven minutes, check your meatballs and flip them so that they are evenly brown. Since I didn't want to use two pans, I lined a cookie sheet with aluminum foil and baked the remaining meatballs at 400 degrees for about ten minutes total, flipping them halfway through.
Once your meatballs are cooked through (you can check by cutting one open), add them to the broth and vegetable mixture, and let simmer for about ten minutes, so the flavors can meld together.

And there you have it! We had some tasty multi-grain crackers from Trader Joe's with it last night, and I added some eggplant hummus. Yum.
Kathleen loves Italian food, bold flavors, homemade pies, fresh berries, and farmer's markets. When she's not trying to figure out how to make a pie crust with less butter, she spends time with her original taste tester/husband and their labrador, Molly. Her blog is Sage and Sound