Hot Wing Mini Cakes
by Cathy Pollak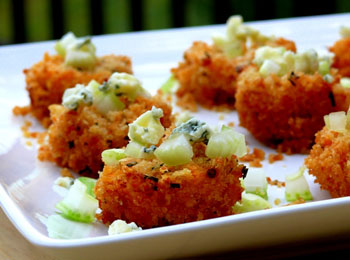 These little cakes have been on my mind since I had a version of them here. They were so, so good. Until now, I have never had a hot wing sauce quite like the one used to make these. It's literally mouthwatering....spicy...and tangy, which is everything you want in a hot wing bite. Definitely a step above the rest, and the reason why I have been craving this taste since I had it last.

Of course Saucy Mama sent us home with some of her amazing hot wing sauce, so I have been planning my little cakes since. These are little bites of heaven with incredible flavor. I have no doubt, these will be your "go to" football food this season. I promise.

Saucy Mama used fancy little pastry shells and filled them with the chicken mixture. You can see their version here. I would use them too, EXCEPT you can not buy them in my town. I suppose we are not fancy enough in our part of wine country to have them. Lame! So I had to come up with my own version for a pastry shell.

What came to mind was the crust I used for these Mini Crab Cakes. They are just completely awesome and I thought the same crust would be the perfect little nest for the chicken, sauce and all the hot wing goodness. The crispy panko crumbs would strongly emulate crispy wings, the perfect choice for these little bites.
As it turns out, I was right about the taste and texture. So right in fact, I did a little victory dance in the kitchen after my first bite. The taste definitely makes you do one of those, "throw your head back and swoon" type moves. You know the one.
Now, while we are not fancy enough to have the pre-made pastry shells in my town, we are fancy enough to be surrounded by some amazing artisan cheese. Namely, this Rouge Creamery Oregon Blue Cheese you see above. The flavor of a good blue cheese is unparalleled. This recipe screams for an over-the-top pungent blue, not those blue cheese crumbles in the grocery store fridge. Get the best blue cheese you can afford, it really stands out.

I hope you get a chance to make these and try the Saucy Mama Hot Wing Sauce, you won't be disappointed!!
Hot Wing Mini Cakes
Recipe Created by Noble Pig | Serves: About 48
Ingredients:
Filling
3 skinless, boneless chicken thighs, finely diced
1 cup Saucy Mama hot wing sauce
8 ounces cream cheese, room temperature
8 ounce blue cheese wedge, crumbled and divided
4 celery sticks, diced
Crust:
cooking spray
3 cups panko (Japanese breadcrumbs)
1 cup butter, melted
1-1/2 cups grated Parmesan cheese
4 Tablespoons chopped, fresh chives
Directions:
In a large bowl, combine chicken, hot wing sauce, cream cheese and 4 oz of the blue cheese. If the cream cheese is room temperature, this will be really easy. Set aside.
Preheat oven to 350°F. Spray mini muffin pan with nonstick spray. Toss panko, Parmesan and chives in a bowl. Drizzle melted butter over, crumb mixture, tossing with a fork until evenly moistened. Press 1 rounded Tablespoon panko mixture into bottom of each muffin cup (make a well with your thumb), forming crust. Spoon 1 generous Tablespoon chicken mixture into each cup. Sprinkle more panko mixture over each.
Bake hot wing cakes until golden on top and set, about 20 minutes. Cool in pan 15 minutes, do not rush this, they will fall apart if you try to move them too soon. Gently lift each crab cake out of the pan with a small fork onto a serving platter. Sprinkle with the last 4 ounces of blue cheese and diced celery.
Cathy runs her own vineyard and winery in the Willamette Valley of Oregon. She is a food writer for Davis Life Magazine and blogs daily about wine, food and everyday living. She lives with her husband and two sons. You can visit her at noblepig.com.
Philadelphia


by

Alexis Siemons





Only a few weeks into spring and I can't stop steeping grassy greens. The bright, vegetal flavors with subtle hints of sweetness are in harmony with the buds on the verge of blossoming.

While I...

Read more...

San Francisco


by

Rachel Parker





The trouble with San Francisco is that there are way too many fabulous places to eat. Regardless of how much over-eating a person chooses to do, enjoying more than 3 meals a day may be the...

Read more...

New York


by

Nancy Ellison





For someone who considered "nursery food" buttered tortillas with Jalapenos or cheese enchiladas, it is with more than just a foodie interest that I seek out Mexican restaurants wherever I...

Read more...

New York


by

Anna Harari





I didn't miss him all winter. Everytime I spoke to our mutual friends, who I guess he got custody over as I was limited to phone time with them, they would tell me he was being cold, sort of...

Read more...