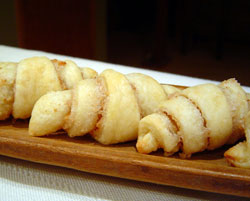 More than twenty years ago, when my Auntie Elinor was living in Riverside, Illinois, she began sending me the special holiday cookbook that her local newspaper published. It was packed with all kinds of recipes that readers had shared. I always loved reading through its pages.
One year, as I read through the recipes, I came upon an interesting cookie called Horns. Tender pastry dough, rich with butter and sour cream, is rolled out thin and sprinkled with a cinnamon-sugar-nut mixture. Wedges of dough are rolled up and baked. The dough is very nice to work with and rolls out very easily. If you haven't had a lot of experience with pastry dough, this is one you'll want to try. It's very user-friendly.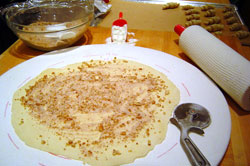 The dough can be mixed up a day or two ahead of time and stored in the refrigerator. I like to use my husband's lefse board to roll out the dough. Any clean, flat work surface will be just fine for rolling the dough. I use a pizza cutter to slice the dough into 16 triangles.
Horns immediately became a family favorite and have become part of our holiday cookie-baking tradition.
They keep well in a tightly covered tin or any container that can be sealed. They can also be stored in the freezer or, in northern Minnesota in winter, the garage. Before serving, dust lightly with powdered sugar.
Holiday Horns
1 cup butter
1 cup sour cream
1 egg yolk
2½ cups flour
Cut butter into flour as for pie crust. Combine egg yolk and sour cream. Add to flour mixture. Mix well. Divide dough into 5 equal pieces. Wrap each in plastic wrap and press down to form disk. Refrigerate dough overnight for ease in handling.
The next day, prepare the filling:
1 cup sugar
1 cup chopped pecans or walnuts
1-1/2 teaspoons cinnamon
Combine ingredients and set aside. Roll each disk of dough into a circle 12 inches in diameter. Cut each circle into 16 wedges. Sprinkle filling over dough. Roll each wedge, starting from outside. Bake on ungreased, parchment-lined cookie sheet at 350 degrees for about 20 minutes. Don't let them get too brown. Transfer from cookie sheet to cooling rack or waxed paper laid out on counter. Makes 80 cookies.
Sue Doeden is a popular cooking instructor, food writer and integrative nutrition health coach. She is the host of Good Food, Good Life 365 on Lakeland Public Television. Her own hives full of hardworking bees and her love of honey led to the creation of her recently published cookbook, Homemade with Honey.