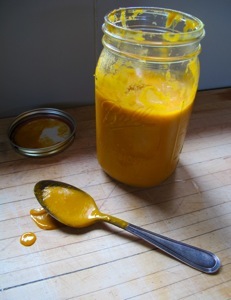 My tomato plants are at peak production. I have so many ripe fruit. We are eating tomatoes at every meal and enjoying fabulous sandwiches. Last night we enjoyed Bruschetta, and the diced-tomato-with-olive oil-herbs-garlic-and-salt topped toasts are a great way to consume several ounces of tomato per person.
Speaking of ounces, we grew a Yellow Brandywine that tipped the scale at just over 2 pounds!
But not all tomatoes are the big beauties, ready to be sliced, admired and devoured on a platter with a little sea salt and sprinkling of chopped basil. No, we have prolific plants that produce small fruit—just larger than a golf ball. These tomatoes are, dare I say, almost annoying in their abundance. What do you do with them?
I make an incredibly easy tomato sauce that is great as a pizza or pasta sauce. I am too busy to fuss too much with the tomatoes. I neither peel nor seed the little buggers. I just cut out the little cores and throw them into a pot with garlic and olive oil and basil, simmer it until thickened, and then puree in a blender.
I realize there are tomato sauce snobs out there that insist the tomatoes be peeled and seeded, but these are tender-skinned Jaune Flamme, Red and Green Zebra and Yellow Perfection tomatoes. If I peeled and seeded them, it would take forever, and there would be nothing left to the tomato. And besides, once pureed in a new world blender, the skin and seeds don't detract, but add to the full-ripe flavor of the sauce. It is really soooo good. The cheese pizza I made on the BBQ with it the other night was awesome.
Here is the recipe for the sauce, in case you find yourself in the same spot.
Homegrown Tomato Sauce
You can double or triple the recipe.
Makes about 2 cups.
4 cups tomatoes, (about 2 pounds) cored and cut into chunks
6 fresh basil leaves
4 large garlic cloves
2 teaspoon minced fresh oregano
2 tablespoons extra-virgin olive oil
½ teaspoon kosher salt
Combine the tomatoes, basil, garlic and oregano in a heavy medium saucepan. Drizzle over olive oil the tomatoes and sprinkle with kosher salt and bring to a gentle simmer over medium-low heat. Cover and simmer, stirring occasionally until the tomatoes are very soft and have lost their shape, about 20 minutes. Uncover and continue to cook until the mixture is reduced to 2 cups, about 10 minutes. Cool slightly and puree in blender. (Sauce can be prepared ahead. Cool, cover and refrigerate up to 1 week or freeze for up to 2 months.)
Jeanne Kelley is an established food writer, recipe developer and food stylist based in Los Angeles, California. Integrating locally grown produce with globally influenced flavors, Kelley's approach to cooking is both simple, festive and fresh. Her recipes can be found in her latest book is Blue Eggs and Yellow Tomatoes: Recipes from a Modern Kitchen Garden
and on her blog Eat Fresh.