Homemade Tater Tots
by Susan Salzman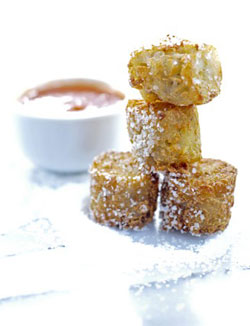 When I heard that my friend, Brigid was making "50″s junk food" I immediately went to a recipe I have been coveting for some time now; Homemade Tater Tots. I have read and re-read Saveur's 100 issue and there are so many recipes that I want to try, modify, and taste. But it is these little golden nuggets of fried "potatoes" that I keep coming back to. Yes, these Tater Tots are indeed fried. And fried food is one of my guilty pleasures.
This is not a dish that I would regularly put on my dinner table, but it is a great treat and perfect for a crowd. This is also a dish that could be done in advance. All of us busy people, juggling everything from kids, work, volunteer committments, plus the perils of everyday life – having something pre-prepared and in the freezer is truly a wonderful thing.
There is simply nothing better than a homemade Tater Tot. I made mine with organic potatoes and whole wheat flour. With that said, could this be considered a healthy treat???
Tater Tots
adapted from Saveur
yield: lots
Ingredients:
3 lbs. organic russet potatoes(3 large), peeled, cut into 1″ pieces.
1 3/4 teaspoons powdered gelatin
4 tablespoons whole wheat flour
1/2 teaspoon cumin
1/2 teaspoon sea salt
Peanut oil for frying
Homemade or organic ketchup
Instructions:
Preheat oven to 250°F. Set up food processor with your metal blade. Add 4 cups of cold water. Peel, cut, and rinse your potatoes. Cut into 1″ cubes. Add to food processor and pulse until all is finely chopped, but not pureed. You want it to be somewhat chunky. Drain in a collander, removing any excess water.
Transfer potatoes to a tea towel. Roll up the potatoes in the tea towel and squeeze as much liquid as you can out of the potatoes. Wrap another tea towel around your first towel and repeat. Spread potoatoes on two rimmed baking sheets. Sprinkle gelatin over the potatoes and place in the oven for about 8 minutes or unitl the gelatin melts into the potatoes.
Put the potatoes in a large bowl. Sprinkle with the whole wheat flour, cumin, and sea salt. Mix together.
Put a little bit of water on a flat surface. Place a piece of plastic wrap and lay it on the wet surface. Take a little less than a cup of the potato mixture and put it on the plastic wrap. Make a log with the potatoes. I tried to make 1″ in diameter logs by about 12-13″ long.
Roll up the potato log as you would an ice box cookie dough. Take the section of plastic wrap closest to you and fold it over the potato log. Roll up the log, using a ruler to push the log together (so confusing, I know – will try and do a how to and post later). Basically, you want to get the plastic wrap as tight as possible around the log so the mixture stays together. I got about 7 logs.
Put the logs on a baking sheet and place in the freezer for about an hour. You want them to be firm but not frozen. Pour your peanut oil in a heavy duty dutch oven and heat until a thermometer reaches 275°F. Taking one log out at a time from the freezer, slice your tater tots into 1″ pieces and place a few in the hot oil at a time. You don't want to crowd the pan. Fry for about 3 minutes or until they are golden in color. Transfer to a baking sheet lined with paper towels. Place tater tots in the freezer for at least 20 minutes.
Reheat oil to 350°F. Working in small batches, add tater tots to the hot oil and fry until dark brown. Transfer to paper towels and sprinkle with sea salt, black salt or truffle salt.
Susan Salzman writes The Urban Baker blog to explore her dedication to good food in the hope of adding beauty to the lives of her family and friends.
New York


by

Hannah Netter





My boyfriend and I have next to no private time. Much to our chagrin we both are currently back in our parent's houses and our date nights generally consist of holing up in his childhood bedroom...

Read more...

New York


by

Michael Tucker





Winter on the Upper West Side of New York is a strange time and place to open a lobster shack. Where's the beach, for example? Where's the sun? The seagulls? It's hard to conjure up seafood by...

Read more...

Los Angeles


by

Maia Harari





My mom makes the greatest hamburger in the world. I don't know how she does it — it's not the cut of the meat or the way she marinades it (she doesn't) or the fact that it's organic (which it is)...

Read more...

New York


by

Anna Harari





I first fell in love with Indian food while working at a company in West Hollywood and my boss, who was a true asshole with excellent taste in food, always ordered lunches from Anarkali. I...

Read more...