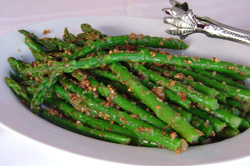 I get excited when I see fresh asparagus standing tall in the produce department at the grocery store. It tells me spring is almost here. Although fresh-from-the-garden asparagus probably won't be available around here until sometime in June, I know that when spring hits the produce department it won't be long before we actually feel that season in northern Minnesota. Now, that's something to celebrate.
I've been blanching, steaming, sauteeing and roasting asparagus for the last week. I've discovered I love having blanched asparagus in the refrigerator. I can grab a spear and nibble on it just the way it is or dab it into some of the roasted red pepper and garlic hummus that I whip together in my food processor and store in the refrigerator for a healthful snack.
Asparagus with Hazelnut Crumble is a quick-to-make dish that takes advantage of blanched asparagus. On a recent evening I melted some butter in a saute pan. When it was hot, I added some minced shallot (because I had some in my little garlic basket on the counter) and cooked it just until tender. Then, I added blanched asparagus spears and kept shaking the pan back and forth so that the spears would be totally coated with butter.
Once the spears were heated through, I added some of the bread crumb-hazelnut mixture that I had stored in the freezer. I had originally made the crumb mixture to sprinkle over Baked Ziti with Sweet Peas, Asparagus and Ham.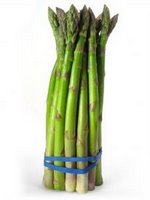 When you're shopping for asparagus, look for firm stalks with buds that are tight at the tip of each spear. Once you have them home, trim a little off the bottom of each spear and stand them in a jar with an inch or two of water. Then store the jar holding the spears in the refrigerator. Treating them just like fresh flowers allows them to stay fresh for a couple of days.
When you are ready to prepare the spears, you'll need to snap off the tough woody ends. Use two hands to hold each end of the asparagus spear. Bend it until it snaps. It will naturally break in just the right place. You can save those ends in a zip-top plastic bag. Use them to make some asparagus soup.
To blanch the spears, bring a large pot or large deep skillet of water to a boil. Drop the spears into the boiling water and cook for 3 to 5 minutes, depending on the thickness of the spears.The asparagus will be bright green and still crunchy. Immediately transfer the asparagus to bowl of ice water. This will shock the asparagus, stopping the cooking process. Remove the asparagus to a clean kitchen towel or paper towels. Pat dry and store in zip-top plastic bag in the refrigerator. I usually use the blanched asparagus within two or three days.
Sauteed Asparagus with Hazelnut Crumble was my meal on this night when I was eating alone. I was a happy little muncher as I savored each spear, nibble by nibble.
This dish would be delicious as an accompaniment to beef, pork or chicken. Or just eat it like I did -- all by itself -- a green and crunchy celebration of spring.


Sauteed Asparagus with Hazelnut Crumble
1 pound fresh asparagus spears
4 tablespoons butter
1 shallot, minced
1/4 teaspoon salt
1/4 teaspoon freshly ground black pepper
1/4 to 1/2 cup hazelnut crumble*
Snap ends from asparagus and put spears into a 9- x 13-inch glass baking dish of cold water. Agitate a little to loosen sand and dirt, then drain, rinse and repeat.
Bring a large deep skillet of water to a boil. Add asparagus spears, reduce heat and cook at a high simmer for 3 minutes. check for tenderness and continue to cook for 1 or 2 more minutes. Remove spears from water and immediately plunge them into a bowl/pan of ice water to stop the cooking.
When cool, drain well and lay on paper towels.
Heat the butter in a large saute pan. Add the shallots and saute until softened. Add the asparagus spears and shake the pan until the spears are coated with butter and are heated through. Add salt, pepper and hazelnut crumble. Continue to saute for a few more minutes. Serve at once. Serves 4.


*Hazelnut Crumble
1/2 cup fine fresh bread crumbs
1/3 cup hazelnuts
Toast hazelnuts by placing them on a baking sheet. Bake in a 350-degree oven for about 10 minutes. Immediately transfer the nuts to a clean kitchen towel. Roll the hot hazelnuts up in the towel and rub gently to remove the skins. It's okay if not every bit of dark brown skin comes off. Allow the nuts to cool.
When the nuts are cool, grind them or chop them very fine. Mix them with the fresh bread crumbs. This crumble can be stored in a zip-top bag or glass jar in the freezer for a couple of months.
Sue Doeden is a popular cooking instructor, food writer and integrative nutrition health coach. She is the host of Good Food, Good Life 365 on Lakeland Public Television. Her own hives full of hardworking bees and her love of honey led to the creation of her recently published cookbook, Homemade with Honey.