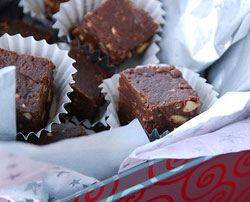 Still looking for the perfect Christmas gift that is easy, inexpensive, and loved by all?

Your problem is solved: give the gift of fudge! That's right. Mix up a few batches, pop them in some festive foil baking cups, and nestle them in decorative tissue paper and tins. Then kick back with a hot chocolate and enjoy your favorite Christmas movies while everybody else kills themselves looking for a parking space at the mall.

No baking is required. None. Zip. It can be made ahead and refrigerated, so it saves you time. Plus, each batch costs only a few dollars and can be made in less than 10 minutes.
Mom's Peanut Butter Fudge
My mom's fudge is thick and creamy without being overly sweet. Though her recipe is versatile, peanut butter fudge has always been everyone's favorite for the holidays. Feel free to play around with add-ins such as marshmallows, dried fruit, crushed candy canes, or whatever else you fancy.

Makes 49 pieces

2 cups semi-sweet chocolate chips
1 can sweetened condensed milk
1/2 stick unsalted butter
1 cup crushed graham crackers
1 teaspoon pure vanilla extract
1 cup chopped peanuts
1/2 cup chunky peanut butter

Coat a 9-inch square cake pan with cooking spray.

In a medium saucepan over medium heat, add chocolate chips, sweetened condensed milk, and butter. Stir continuously until butter and chocolate are completely melted the mixture is thick and smooth. Remove from heat.

Add crushed graham crackers, vanilla extract, peanuts, and peanut butter. Using a rubber spatula, mix until well blended.

Pour fudge into the prepared pan. Cover with aluminum foil and refrigerate until firm, at least for 4 hours, or preferably overnight.

Slice into 7 equal rows to create 49 square pieces. It's a good idea to use a ruler to ensure equal size pieces. Fudge can be made up to a week in advance and refrigerated.
Originally published on Food Blogga, a blog by Susan Russo, a writer from Rhode Island now based in San Diego.