Chex Mix Cha Cha
by Sue Doeden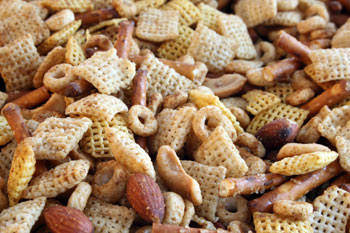 Chex Mix. It's one of the simple things of life.
It seems to me Chex Mix has been around forever. I remember my mom mixing up a batch or two each year at Christmas time, following the directions on the box. I also clearly remember all the Wheat Chex remaining at the bottom of the bowl. No one seemed to care for those dark pieces, yet the Wheat Chex always went into the mix.
About 10 years ago, I got gutsy and broke my mother's Chex Mix mold. I left out the Wheat Chex. I stirred in some Cheerios instead. I changed the seasoning ingredients. Nothing left in the bottom of the bowl any more. After making it at Christmas time and for Super Bowl games for a few years, I forgot all about that mix my family gobbled up each time I made it.
A couple of weeks before Christmas I was staying with my son and daughter-in-law in Fargo for a weekend. I noticed my daughter-in-law had a recipe on the counter for Chex Mix Cha Cha. She had gotten the recipe from me. I'm not sure how I could have totally forgotten about it. I copied it, feeling very uncertain about where I would look for it in my own recipe collection.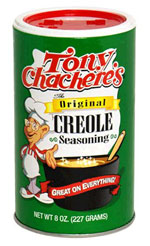 Chex Mix Cha Cha gets its cha cha from the addition of 2 teaspoons of Tony Chachere's Creole Seasoning. Some friends who had moved to North Dakota from Louisiana were spending a weekend with us shortly after we'd moved to Bemidji. When Lou spotted the Tony Chachere's Creole Seasoning on my spice rack, he said something like, "Oh, you've got the Chacha's!" He was astounded to see this fiery made-in-Louisiana spice blend in my kitchen in northern Minnesota.
I just mixed up my first batch of Cha Cha in years last night. Today, each time I walked through the kitchen, I couldn't stop myself from grabbing a handful and popping it into my mouth. My little golden, Gracie, was right there with me, hoping a Cheerio or a Chex would make it to the floor. She likes Chex Mix Cha Cha, too.
It sounds like we're going to be snowed in this weekend. I'll curl up in front of the fire with the good book I'm currently reading and a bowl of Chex Mix Cha Cha. And Gracie, too.
Here is the simple recipe, from me to my daughter-in-law to me to you.
Chex Mix Cha Cha
6 tablespoons butter
2 tablespoons Worcestershire sauce
2 teaspoons Tony Chachere's Creole Seasoning
1 teaspoon garlic powder
3 cups Corn Chex
3 cups Rice Chex
3 cups Cheerios
3/4 cup roasted and salted whole almonds
3/4 cup roasted and salted cashews
1½ cups broken pretzel sticks
Preheat oven to 250°F. Place butter in large roasting pan and put in oven to melt. Add Worcestershire sauce, Creole seasoning and garlic powder. Mix well.
Gradually add cereals, nuts and pretzels, stirring to coat with butter mixture. Bake in 250-degree oven for 1 hour, stirring every 15 minutes. Spread Chex mix on paper towels to cool. Store in airtight container.
Sue Doeden is a food writer based in Bemidji, Minn. Her columns, recipes and photos appear weekly in select Forum Communications Co. newspapers. She also appears on Lakeland Public Television's Wednesday newscast at 10 p.m., and teaches cooking classes. Her recipes can be found online on her blog Sue Doeden's All about Food.
New York


by

Hope Stranger





Alex and I have been dating for almost four months now. We have shared several meals and conversations together beyond Casa Mono. As our relationship has settled into a 'monogamous' place, we...

Read more...

New York


by

Libby Segal





It is not every day that I meet a furry friend on my travels through coffee shops. Normally, I find a heart shape design or a leaf, or a flower in the foam of my cappuccino-- a symbol of my...

Read more...

Northern California


by

Joseph Erdos





No man is an island; we are all interconnected by our humanity. That is the philosophy of Ubuntu, a belief rooted in Zulu culture that emphasizes people's allegiances, relationships, community,...

Read more...

New England


by

David Latt





The road to John Andrews Restaurant twists and turns through woods and farmlands. We arrived at dusk while there was enough light to sit outside on the wooden deck that backed up against a grassy...

Read more...