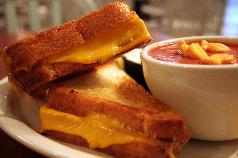 We're not sure who makes these decisions...
April is not only National Grilled Cheese Month, but also National Poetry Month. In an effort to celebrate both, The Pop Shop in Collingswood, New Jersey, is holding their 3rd Annual Cheesy Poetry Contest, which honors the best poem, ode or haiku about the joy of eating grilled cheese at their shop.
Since they make over 30 different types of grilled cheese, they are clearly a great place to find inspiration. The contest is open to all ages with two winners being selected – one adult and one child.
To enter, e-mail This email address is being protected from spambots. You need JavaScript enabled to view it. by April 24th. For full contest rules and more information about the joys of Grilled Cheese go to The Pop Shop.
Living in California, my only problem is how to collect the free lunch when I win.