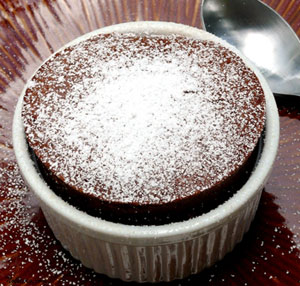 My current comfort food of choice is chocolate. It seems to sooth all muscle aches after a long day in the vineyard. Don't worry if you've never attempted a souffle, this recipe is easy and foolproof and it doubles nicely if you want to serve it at a dinner party. The souffle rises very nicely, it was even higher than is shown but souffles do start to shrink if you don't serve them right away.

Anyway, as far as the cheating, in place of the traditional bechamel, a tricky sauce that requires constant stirring, sweetened condensed milk is used. Baking spray is used to coat ramekins in a fraction of the time it takes to butter and sugar them. Bittersweet chocolate chips eliminate the need for chopping and they melt quickly in the microwave (instead of slowly on the stove).

So with all these cheats you have a beautiful and decadent dessert that takes less than 30 minutes to put together and can even be made ahead. The best part...the resulting souffle is just as delicious and creamy as the original. And I'm telling you, it's foolproof. Consider it for Mother's Day, you'll make your Mom very happy.
Cheater's Chocolate Souffle
From Good Housekeeping
Makes four servings

Nonstick baking spray with flour
4 oz. bittersweet chocolate chips (scant 1 cup)
1/3 cup sweetened condensed milk
3 large eggs, separated, room temperature
2 Tablespoons confectioner's sugar, plus more for sprinkling on top

Preheat oven to 375o F. Generously coat four 4-ounce ceramic or glass ramekins with nonstick baking spray with flour.

In microwave-safe large bowl, microwave chocolate chips on High in 15-second increments, stirring, until just melted (1 to 2 minutes). Remove from microwave; with wire whisk, whisk in condensed milk. Whisk in 2 egg yolks until blended; refrigerate remaining egg yolk for another use.

In another large bowl, with mixer on medium speed, beat egg whites until medium-stiff peaks form (3 to 4 minutes). Add one-third beaten egg whites to chocolate mixture and whisk gently until incorporated. With rubber spatula, gently fold in remaining whites until just incorporated.

Divide batter among prepared ramekins. If preparing ahead of time, cover with plastic wrap and refrigerate until ready to bake. (Uncover before baking.)

Sift confectioner's sugar over tops. Place ramekins in jelly-roll pan for easier handling. Bake 11-15 minutes or until tops rise about 1 inch above rim; do not open oven while baking. Sprinkle with more confectioner's sugar. Serve immediately.
Cathy is currently in the development stages of her vineyard and winery in the Willamette Valley of Oregon. She is a food writer for Davis Life Magazine and blogs daily about wine, food and everyday living. She lives with her husband and two sons. You can visit her at noblepig.com.