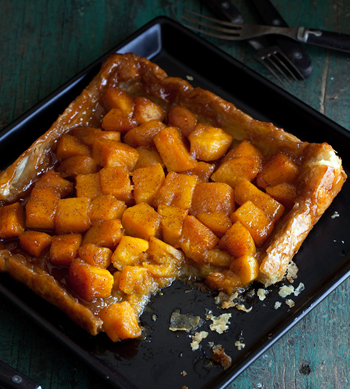 Oh this little butternet squash tarte tatin, how much do I love you? Enough to have you three times over the past few weeks, all for the sake of "recipe testing", you know.
And honestly, this upside-down tart is probably one of the best things I've had all season, if I do say so myself.
Sweet butternut squash is roasted and then placed on top of caramel in a baking pan. The whole thing is covered with puff pastry and baked, and when it's ready you invert the whole thing onto a plate and just go for it. I've tried to be nice when eating this but you can't, it just disappears so fast. It was a hit during our Friendsgiving last month, but in a quick misfire of timing and communication it landed on the table during the meal and not as dessert. You know what? It didn't matter. It was sweet and buttery, perfect with Gaby's stuffing and just about everything else that afternoon.
Honestly, I do think you'll love it.
Butternut Squash Tarte Tatin serves 8
Ingredients
4 cups butternut squash cut into 1-inch cubes
1–2 tablespoons canola oil
a pinch of salt
¼ cup butter
¾ cup sugar
¼ tsp. cinnamon
a dash of nutmeg
1 (about 8-oz) sheet of frozen puff pastry, thawed
Instructions
For the squash: heat oven to 400˚F. Toss the squash cubes in 1–2 tablespoons of canola oil, sprinkle with a pinch of salt and roast until tender, about 30-35 minutes, turning once during baking to insure even cooking and browning. Remove from the oven and set aside to cool while you make the caramel.
With the oven still at 400˚F, move the oven rack to the top position.
Melt butter over medium heat in a nonstick skillet, stir in sugar and cook until golden brown, about 6 to 8 minutes, swirling skillet often. Stir in cinnamon and nutmeg; pour caramel into an 8-inch by 8-inch baking pan. Place roasted squash over caramel. Unfold the puff pastry over the squash and fold any excess pastry down the sides of the pan and under. Prick the pastry with a fork all over and place in already hot oven for 30 minutes. Let cool for 5 minutes, then invert onto a serving plate, being careful not to burn yourself. It's hot! Cut and serve. It's fantastic with crème fraiche, ice cream or a nice dollop of whipped cream. Or as is. I'm not picky.
-- Also published on MattBites.com