Butternut Squash Bread Pudding with Dried Cranberries
by Joseph Erdos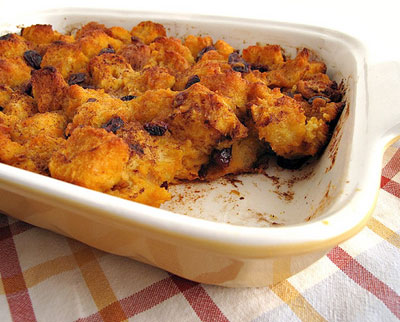 Ever since I first tried it, bread pudding has become one of my favorite homey desserts. Growing up I never knew it even existed. In my household, old bread was made into breadcrumbs not dessert (blame it on eastern European frugality). If you like French toast then there's no reason you wouldn't like bread pudding—they have similar preparations but with different cooking methods. I actually love it more than French toast, which is hard to say for someone who, as a kid, demanded his mom make French toast for breakfast every Saturday morning.

There's something special about the soft, moist cubes of bread in this dessert that makes me go weak in the knees. When I traveled through England during college, I couldn't help noticing bread and butter pudding (or spotted dick as they commonly call it) on almost every restaurant menu—and I always ordered it without restraint. It always came drenched in custard, which is the traditional way to serve it.
With this recipe I put a seasonal spin on the comforting bread pudding by adding puréed roasted butternut squash and replacing the classic raisins with dried cranberries. Once you dig into it, you'll be surprised how much it tastes like pumpkin pie—you might even consider making it every holiday from now on. Serve it for dessert with vanilla ice cream. It's also not bad for breakfast with some maple syrup.
Butternut Squash Bread Pudding with Dried Cranberries

2 tablespoons butter
1 16-ounce loaf Brioche, cut into 3/4-inch cubes
3/4 cup dried cranberries
2-1/2 cups whole milk
6 large eggs
1 cup roasted butternut squash purée
1 cup granulated sugar
1/4 cup rum
2 teaspoons pure vanilla extract
2 teaspoons ground cinnamon

Preheat oven to 350 degrees F. Spread the bread on a large rimmed baking sheet and toast for 10 minutes until dry and light brown.

Butter a 2-quart baking dish with 1 tablespoons butter. Add bread and cranberries.

In a large measuring cup or bowl, beat together milk, eggs, squash purée, and sugar. Stir in rum and vanilla. Pour over bread and toss to incorporate. Let soak in refrigerator for 1 to 2 hours.

Dust top with cinnamon. Dot the top with remaining butter. Tent with aluminum foil and bake for 30 minutes. Remove foil and continue to bake for another 20 minutes. Bread should be puffed and custard set. Let cool slightly before serving.
Yield: 6 to 8 servings.
Joseph Erdos is a New York–based writer and editor, butabove all a gastronomer and oenophile. He shares his passion for foodon his blog, Gastronomer's Guide , which features unique recipes and restaurant reviews among many other musings on the all-encompassing topic of food.
New York


by

Anna Harari





I didn't miss him all winter. Everytime I spoke to our mutual friends, who I guess he got custody over as I was limited to phone time with them, they would tell me he was being cold, sort of...

Read more...

New York


by

Michael Tucker





The weather turned yesterday.

The air was suddenly, blissfully free of the sodden end-of-summer heaviness and the scent of August — that heady perfume of sixteen million sweaty feet in sandals —...

Read more...

Los Angeles


by

Laraine Newman





During the Great Depression, Hollywood did its part by providing people with the ultimate escape. It didn't try to provide its audience with everyday situations that just reinforced their misery....

Read more...

New England


by

Lisa Dinsmore





I've probably driven by this unassuming breakfast/lunch spot hundreds of times. It's in my hometown of South Hadley, Massachusetts, located in "The Flats", which was a section of town we drove...

Read more...