Brown Sugar-Glazed Grilled Plums
by Joseph Erdos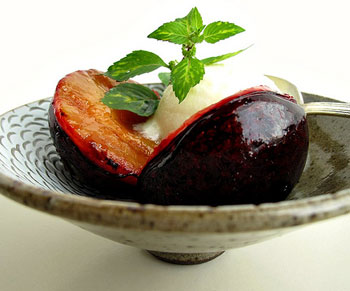 Plump, sweet, and juicy—these are the best-tasting plums. Late summer brings with it all the different types of plums—colors of white, black, red and shapes of round and oval. There are too many varieties to list here. And don't forget pluots, a cross between plums and apricots. I love to eat them fresh—and you know they're good when the juices run down your arm. But as you've seen by reading here, I also adore plums in simple, homey desserts.

Instead of the typical preparation, these plums are grilled. Grilling fruit is not a typical technique, but it's great for bringing out the flavor of fruit, especially when it's a bit underripe. Imagine pineapple slices, peaches, or nectarines on the grill. These fruits nicely caramelize, especially when they're brushed with a sugar mixture. And what goes better with warm fruit than ice cream? This is a dessert to savor spoonful by spoonful.
With just three ingredients, this recipe is almost a nonrecipe. Brush the plum halves with a mixture of sugar and butter that caramelizes on the grill. Serve with ice cream, like my lavender-crème fraîche ice cream, which lends a unique flavor to the dessert. Take the opportunity to grill some fruit before summer ends!
Brown Sugar-Glazed Grilled Plums with Lavender-Crème Fraîche Ice Cream

3 tablespoons light-brown sugar
3 tablespoons unsalted butter, melted
6 plums, halved and pitted
canola oil, for brushing
Lavender-Crème Fraîche Ice Cream, for serving

Heat a gas grill or grill pan at medium high.

Combine the brown sugar and butter in a small bowl. Brush plum halves all over with sugar-butter mixture.

Moisten a paper towel with a little oil and brush grates.

Grill plums, cut-side down, until slightly charred and softened, about 8 minutes. Serve 2 plum halves with a scoop of ice cream per person. Yield: 6 servings.
Joseph Erdos is a New York–based writer and editor, butabove all a gastronomer and oenophile. He shares his passion for foodon his blog, Gastronomer's Guide , which features unique recipes and restaurant reviews among many other musings on the all-encompassing topic of food.
Southern California


by

Matt Armendariz





You might remember we were on a slight squash kick recently. It coincided with a visit to one of my favorite restaurants here in Long Beach, Michael's Pizzeria. I've said a million times that I...

Read more...

London - British Isles


by

Ilene Amy Berg





What is it with all the Queen's men? In an earlier piece on great sandwiches in London, I mentioned my British friend Craig, who now lives in LA and told me "there are no great sandwiches in...

Read more...

Los Angeles


by

Lisa Dinsmore





This year on my summer vacation I actually played tourist in my own home town. I've lived in Los Angeles for 20 years – never thought I would be here this long – and have pretty much seen/done...

Read more...

Arizona


by

Lisa Dinsmore





For the past decade, my husband and I seem to find ourselves in Scottsdale Arizona every Spring. Most years it's to celebrate the arrival of another baseball season by talking in as many...

Read more...