Bloody Band-Aid Cookies
by Cathy Pollak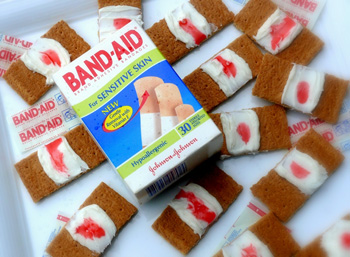 It's that time of year of again...where gross food is welcomed by the little boys that inhabit my house. Nothing brings a smile to their face like something bloody, goopy, poopy or oozy when Halloween is in the air. They love it.

I saw these cookies and thought, my kids need to be welcomed home from school with these somewhat authentic looking bloody band-aids.

Sure enough, they were a hit. And really, these are not even a recipe, I mean there is nothing to their construction, but they got rave reviews. I could have baked all day from scratch and not gotten the fan fare these received. Go figure.

So put these on your Halloween menu...the kids will love the grossness. I mean, remember the Kitty Litter Cake? Their all-time favorite.
Bloody Band-Aid Cookies
From Making Memories with Your Kids

Graham Crackers
White Frosting
Red Decorator's Gel

Break graham crackers into eight sections. Smear on white frosting of your choice and one drop of red decorator's gel is enough (it runs).

Serve on a plate with real Band-Aids. Smiles and grossed out faces to follow.
Cathy is currently in the development stages of her vineyard and winery in the Willamette Valley of Oregon. She is a food writer for Davis Life Magazine and blogs daily about wine, food and everyday living. She lives with her husband and two sons. You can visit her at noblepig.com.
Los Angeles


by

Jo Stougaard





Twenty years ago when I lived in San Diego, my ex-husband and I loved eating at Karinya Thai Cuisine. The restaurant was up the street from our home in Pacific Beach, and it was our "go to"...

Read more...

Los Angeles


by

David Latt





Living in Southern California, we enjoy rich ethnic diversity. Those of us who explore culture through cuisine are very happy about that. Located in West Los Angeles, Yabu, which has a devoted...

Read more...

Los Angeles


by

Laraine Newman





I go to Pasadena often because my younger daughter's cheer team practices there. Yes, I spawned a cheerleader because my parents don't have enough to laugh about in heaven. It's given me a chance...

Read more...

Los Angeles


by

Maylynn Morales





Chef Ricardo Zarate has proven once and again his blossoming creativity of modern cuisine, all while never losing sight of his roots. I had the pleasure of meeting Chef Zarate back in April...

Read more...