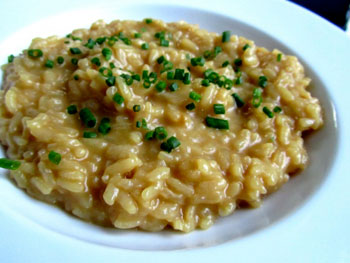 Despite the fact that it has been been between 80 to 100+ degrees every day for the past few weeks, I have been craving risotto like a mad woman. Nevermind the fact that it requires about an hour (maybe a little less) over a hot stove in a house that doesn't have central air conditioning. I know it's not just for the excuse to open a bottle of wine (or beer, in this case), and I certainly don't enjoy sweating any more than necessary. Risotto is fun to experiment with; it's an enjoyable way to pass the time and end up with a dish that feels like I put a little work into it, even though all it really requires is stirring and sipping a cool beverage.
I usually use a dry white wine for risotto (see here and here), but this time I wondered if beer would be a successful switch. I've been obsessed with Firestone's summer release, Solace, so that was the beer I decided to use…because of course I had to drink my accompaniment! It will be fun to experiment with beers of different intensities. Solace is on the lighter side. I'd be very curious to try a porter risotto – but maybe I'll wait for the fall for that one!

Beer and Aged Gouda Risotto
This recipe is on the smaller side for risotto, since I was home alone when I made it – this makes about two servings as a main course. The recipe could easily be doubled to serve more.
3 cups chicken broth
2 tablespoons olive oil
1 shallot, sliced very thinly
1 clove garlic, minced
3/4 cup Aborio rice
1 1/2 cups beer of your choice
1/2 cup finely grated aged Gouda (I used Beemster X-O from Vivant Fine Cheese)
2 teaspoons fresh chives
Bring the broth to a boil. When it has reached the boiling point, turn the heat to low and cover.
Meanwhile, heat the olive oil in a Dutch oven or large pot and let the shallot cook until soft. Add the garlic, stir for 30 seconds, then add rice and let it absorb the butter and olive oil, then add the beer and stir while the rice soaks it all up. Note that 1 1/2 cups of beer is not a whole bottle, so feel free to enjoy the leftover cerveza.
Once the wine from the last step is absorbed, add one cup of hot broth from your covered pot. Stir until the rice absorbs it. Repeat until rice is tender. Just make sure to stir pretty consistently and be patient while each addition of broth absorbs.
When the rice is firm but not crunchy (you might not need to use all the broth), turn the heat off and stir in the Gouda. Chop chives and garnish each bowl with them. Enjoy!
Laura is has been cooking since she was a young girl and currently lives and works in Paso Robles, California. She share her passion for food on her blog Sweet Life Laur.