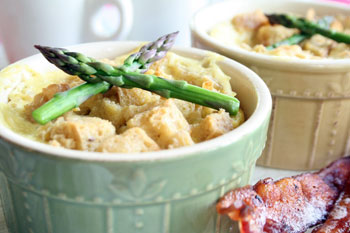 Large pans filled with a billowy mixture of oven-baked eggs, bread and vegetables is always a good choice for breakfast when you need to feed a crowd of hungry sleepyheads. But what about feeding just two people who love to sleep in on a cool, cloudy, drizzly no-work-day morning? Just have a couple of ramekins of Asparagus Egg Bake in the refrigerator.
While the water is heating for the French press and bacon is sizzling in a cast-iron skillet on the stove, two ramekins filled to the top with layers of chunks of English muffins, cheese, eggs, asparagus and chives can be baking in the oven. What a way to start the day.
Several spears of fresh asparagus that had been roasted to eat with grilled steaks were in a zip-top bag in the refrigerator when I decided to put together a couple of breakfast dishes to have on hand during the long holiday weekend. In the refrigerator, I knew they would be good for a few days, if necessary.
This morning was cool, dark and dreary — perfect for turning on the oven to heat up my chilly kitchen. I had thought about layering bits of crispy bacon into the egg-bakes, but decided against using the quality Nueske's applewood smoked bacon I'd discovered at my local grocery store last week. I wanted to eat slices, fried to crispness, alongside my egg-bake.
According to the weather predictions, we can expect a cool, wet summer. I'll be keeping this recipe handy. Any summer-fresh vegetables, slightly cooked, can be layered into this dish. Experiment with a variety of your favorite herbs and cheeses.
What looks like an awful morning — dark clouds, rain, and chill — can turn into something quite wonderful with Asparagus Egg Bake for Two. And then, back to bed for a little more sleep as the raindrops pitter-patter on the roof.
Asparagus Egg Bake for Two
3 large eggs
3/4 cup milk
1 tablespoon butter, melted
Salt and pepper
2 English muffins, cut into bite-sized chunks
1/4 cup shredded Swiss cheese
6 asparagus spears, cooked crisp-tender, cut into bite-sized pieces
2 teaspoons finely chopped fresh chives
Lightly grease the inside of two (10- to 12-ounce) ramekins. In a bowl, beat eggs, milk, butter and some salt and pepper.
Put 1/4 of the English muffin pieces into bottom of each ramekin. Layer with 2 tablespoons grated cheese in each, 1/2 of asparagus pieces in each one, 1 teaspoon of chives in each ramekin, and top with remaining pieces of English muffin. Slowly pour egg mixture over layers, using half of it for each ramekin. Cover ramekins with plastic wrap and refrigerate overnight or up to 2 days.
Preheat oven to 325 degrees. Remove plastic wrap from ramekins. Place ramekins on a small baking sheet to catch any drips that my slip over the sides. You don't want to start the day with a smoky kitchen. Bake for 25-30 minutes, until egg mixture is set. Serve hot. Makes 2 servings.
Sue Doeden is a popular cooking instructor, food writer and integrative nutrition health coach. She is the host of Good Food, Good Life 365 on Lakeland Public Television. Her own hives full of hardworking bees and her love of honey led to the creation of her recently published cookbook, Homemade with Honey.