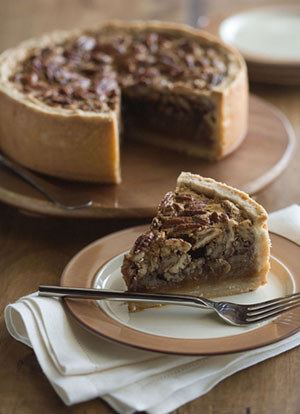 It started simply enough: the other half felt the need to bake. For me, well, I'm no baker and the urge to do so is akin to washing my car or preparing receipts for tax purposes. I'll do it but only begrudgingly. But like many things I'm fully prepared to participate in the end result, and in this case it was a pie of monstrous proportions.
I'm not quite sure of his thought process as I wasn't in the kitchen when he found the recipe, but I know it involved tons of pecans, a spring form pan and the new oven. I was a bit relieved that I wasn't around as anyone knows to mess with a Texan's Pecan Pie is clearly not the smartest thing to do (even if said Texan lives in California.) It's not quite sacrilege — but it's pretty damn close.
"So this pie I'm baking, I found a recipe online and I'm not sure how it's going to come out," my big red-headed angel tells me.
"You're a baker, I'm sure it'll be just fine," I respond.
"I don't know about that, it's kind of a different sort of Pecan Pie."
Different sort of pecan pie. Different sort of pecan pie. DIFFERENT SORT OF PECAN PIE. DIFFERENT SORT OF PECAN PIE! Are you getting that, folks? As those words floated around the kitchen they took their sweet little time worming their way into my brain. A what type of what pie? Did I really hear you correctly? Would you like to grab an enchilada while you're at it and poke me in the eye? How about hitting me over the head with a rib bone from Tyler, Texas? Come on, I'm all yours, just do it! You already started.
I calmed myself down and told myself he was only coming from a place of love, and honestly, he's never made a bad thing, especially when he bakes. I said a prayer to the giant pecan trees that towered over our house in Austin, asking for forgiveness. I then went online to see if I could legally participate in this kitchen experiment without serving 5-7 for crimes committed against my home state (turns out George W. did enough of that himself so luckily I was off the hook).
After I finished my breathing exercises I began to think about the pecan pie and most importantly why was I such a snob about them? After all, it's only crust, nuts, and filling. That's all. And if we break it down sometimes it's so cloyingly sweet (especially when someone serves you up a slice with Texas tea) that there's really no flavor and you get a gummy, gelatinous mouthfeel with a feeble crunch. I then understood why people passed on Pecan Pies and went to Apple or Pumpkin. Why was I getting all pedantic and territorial and hella defensive?
BECAUSE I WAS BORN AND RAISED IN TEXAS, Y'ALL! THAT'S WHY!
But no matter. I was going to approach this with an open mind. Out with anger and in with love, I always say. Obviously someone created this recipe to taste good, not bad. So after this giant thing (because really, I didn't know what to call it) came out of the oven and set overnight Adam took out the electric knife and began to carve.
A beautiful, almost cookie-like crust began to open up and reveal a pie not mired in goo but with a beautiful ratio of whole pecans to filling. No chintzy pie here but a real, delicious hunk that would make any Texan proud. The recipe retained the true spirit of the pecan pie while giving it extra oooomph. Made properly a pecan pie may not need it, but in this case it sure was nice. I didn't even need ice cream, and that's saying a lot!
After spending a good 43 minutes eating and chewing one piece I realized that this Deep Dish Pecan Pie was not in fact Texan heresy but a way of changing things up just a bit while making sure the new oven works. I've since learned to relax with his experiments, enjoy the delicious outcomes, and brace myself for the Chicken Fried Steak Frittata that I'm secretly hoping he invents.

Deep-Dish Pecan Pie, Oxmoor House, January 2000
Because of its size you'll really want to chill this before slicing, and don't do what I did and serve yourself a giant piece. A little goes a long way — a lesson I still haven't quite picked up after 37 years.
1 cup butter or margarine, softened
2 (3-ounce) packages cream cheese, softened
2 cups all-purpose flour
1/4 cup sugar
1 (16-ounce) bottle light corn syrup (2 cups)
1 1/2 cups firmly packed light brown sugar
1/3 cup butter or margarine, melted
4 large eggs, lightly beaten
4 egg yolks, lightly beaten
1 tablespoon vanilla extract
1/2 teaspoon salt
3 1/2 cups pecan pieces or halves
Beat 1 cup butter and cream cheese at medium speed of an electric mixer until creamy. Gradually add flour and 1/4 cup sugar, beating well. Shape dough into a flat disc; cover and chill 15 minutes. Roll chilled dough to a 13" circle; carefully transfer to an ungreased 9" springform pan. (We recommend covering the outside of your springform pan with aluminum foil before filling and baking this pie. It's a safeguard against leaks.) Press dough up sides of pan. Cover and chill.
Combine corn syrup, brown sugar, and melted butter in a large bowl; stir well with a wire whisk. Add eggs, egg yolks, vanilla, and salt; stir well. Stir in pecans. Pour filling into unbaked pastry-lined pan.
Bake at 375° for 15 minutes. Reduce oven temperature to 300°: bake 2 hours and 15 minutes, shielding pie with aluminum foil to prevent excess browning, if necessary. Cool completely on a wire rack. Cover and chill, if desired. Remove sides of springform pan to serve.
-- Also published on MattBites.com