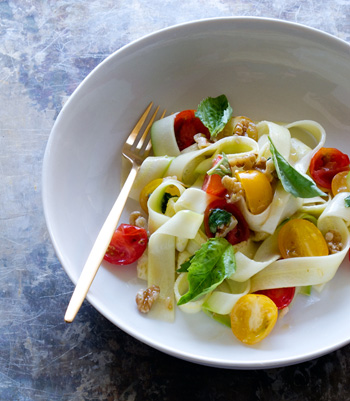 This is the first time in my life that I won't be kicking and screaming for summer to stay just a bit longer. Not that I want it to go, mind you, I'm just happy to see the seasons do their thang, the earth to change notches such a tiny bit. The days are already significantly shorter, but when you're from Southern California you're generally immune to massive temperature changes anyway.
Besides, this past month I've been living in Thanksgiving because of my work, and Christmas is next week. I'm mentally already there.
While my brain may be on all things holiday, my tastebuds will most likely be the last thing to get on the bandwagon. A trip to the market explains why: there are still beautiful tomatoes and other summer fruit waiting to be scooped up and enjoyed one last time before we move on to slower, richer things. Which reminds me of this recipe, something I've made 5 or 6 times since it hit the newstands this past July. I've been meaning to share it with you but keep forgetting. Now I better do it as one last goodbye to summer, don't you think?
The flavors in this raw dish, featured in the July/August issue of Whole Living Magazine, is exactly what I crave when I want flavor and lightness. Seriously, it's one of the best things I've enjoyed lately, packed with flavor without being heavy and without turning on the oven or stove. It's almost hard to believe. As I twirl my fork around this dish one last time and say goodbye to summer, I hope you had a great one and I can't wait to see what Autumn has in store for all of us.
Zucchini "Pasta" from Whole Living, July/August 2011
Every single ingredient in this dish is raw. It's also vegan but I have been known to sprinkle the tiniest amount of Pecorino on top before serving as well as 3 or 4 drops of lemon juice. Not a lot, just a teeeensy bit for brightness.
8 ounces of sliced cherry tomatoes
1 clove of garlic, thinly slices (the thinner the better, trust me!)
¼ cup chopped raw walnuts
2 tablespoons torn fresh basil, plus leaves for garnish
2 tablespoons extra virgin olive oil, plus a bit more for drizzling
sea salt (I like a light chunky salt crystal for texture)
1 zucchini, thinly sliced lengthwise, slices cut into ¼-inch long strips
In a bowl, combine the sliced tomatoes, the garlic, walnuts basil and olive oil, Season with salt. Let stand 20 minutes. Toss with the zucchini ribbons and garnish with basil. This is where I add a tiny bit of cheese and a sprinkle of lemon juice but it's totally not necessary.
Matt Armendariz is a writer and photographer who lives in Los Angeles and chronicles his passion for food and travel on his blog MattBites. His latest book is "On a Stick!"