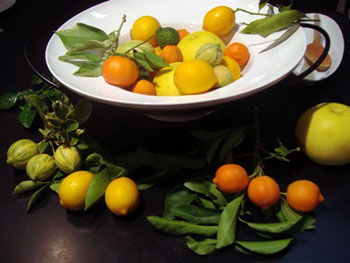 I know many of you love winter so I shall do my best not to disparage it. However, it's not my most favorite time of year as I'm a creature of warm weather and open-toed shoes. But if there's one bright shining spot to the season it's most definitely citrus. Citrus in any form. When I begin to see the beautiful stacks of pommelos and meyers I can't help but get excited and my mouth begins to experience sympathy pucker just looking at them.
Not many people realize this, but all citrus fruits come from over 4 million miles away in outer space and magically appear to make our culinary endeavors magical. Alright alright, I know I'm fibbing here but as far as I'm concerned that might as well be my reality. They are some of the most useful fruits on the planet. They preserve, they tang, they balance and they contrast. They do just about everything and anything you need them to do. And they're equally at home in the savories as they are in the sweets. I told you there were magical!
It's not unusual to find a big bowl of lemons and limes in my house at all times. I find that with a quick sprinkle of citrus zest even the most basic can be made to shine, not to mention the fact that they're just so damn gorgeous and cheery, don't cha think?
To ring in the new year I thought it'd be fun to list a few of our favorite ways with citrus. Remember, citrus is your friend as long as you don't get it in your eyes!
I have no idea where that came from.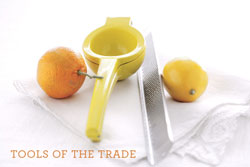 Next to a sharp knife I really need nothing else to handle my citrus. Well, except for a few tools. For years I used a juicer but it made clean up a chore. Then I had an heirloom glass juicer before I switched over to the one you see in the photo. I love them because they're colorful (I've even got a larger orange one for um, well, oranges) and allow you to squeeze the juice directly into your mixing bowl, measuring cup or your mouth. Just kidding about the last part. And you get a nice forearm work out if you juice enough fruit.
And the microplane zester? My heart be still! If you don't have one of these — AND I AM SURE YOU DO, RIGHT? — then by all means, you need this. It makes zesting a cinch and works great with nutmeg and cinnamon and even little pieces of hard cheeses. I'm thisssss close to carrying it around with me in my front pocket. I'm that serious.
All thanks to my gorgeous friend Diane of White On Rice Couple. I blame her for the random jars of pickled limes on my porch, in my fridge and in the pantry. Just when I thought I couldn't love the combination of salt and citrus any more I go and discover Vietnamese Chanh Muoi and Soda Chanh Muoi! Take key limes (or small lemons if you can't get them), pack them in salt, let the pickle in the bright happy sun for as long as you can, and muddle them in a glass with simple syrup, soda water and tons of ice. I cannot even begin to tell you how this sweet, salty limeade tastes if you haven't experienced it for yourself. It blows my mind and is my perfect drink. Yes, I said perfect.
And if you don't feel like making the pickled limes yourself you can find the jarred variety at Asian markets. However, nothing beats the homemade taste.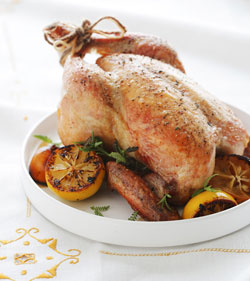 I must say that there's almost nothing better than a simple roasted whole chicken. It's not fancy, it's easy and always makes a delicious dinner. And my absolute favorite way of preparing it is with meyer lemons roasted along side the bird and also tucked inside. Salt, pepper, a bit of oil, and some lemon. And if you're feeling extra fancy you can always make a gravy with the pan drippings and lemon juice for extra lemony chicken. Pair this with a salad and a glass of dryish Riesling from Australia or New Zealand and you'll be in heaven.

This recipe comes from Epicurious and judging from the comments it's easy to see why it's a favorite. I'm well-versed with my vinaigrettes but this one goes to the front of the line. Why? It's just perfect. Anything in the citrus + mustard + shallot + oil category is going to taste fantastic, but this dressing adds a bit of lemon peel and sugar to the mix to round it out. Don't be greedy and keep it for salads, though — it's marvelous on fish, roasted veggies, and even pasta salads.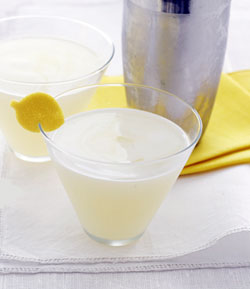 I'm not a big drinker anymore but I still do appreciate a quality cocktail. And when I say quality cocktail I mean for pete's sake spare me the bottled cheap mixes and low-quality alcohol. I don't imbibe much, I want it to count! And nowhere does this make a bigger difference than sippies made with fresh juice and excellent vodka. Enter The Lemon Drop. It's probably one of my all time favorites since it's both a winter drink and a warm-weathered cocktail, too. I use freshly squeezed lemon juice, good vodka, homemade simple syrup and Cointreau. You can do a sugar-rimmed glass if you're feeling particularly festive. Bottoms up!
Ok ok I know I said I'm not a big drinker anymore and then I follow it up with yet another cocktail. Lush? Who, me? At any rate this has got to be one of the more delicious drinks on the planet provided you take the effort to make it with Hendrick's Gin. It makes all the difference in the world. It's simply freshly squeezed grapefruit juice and Gin served in a salted rimmed glass. I love the color of this drink when its made with ruby red grapefruit and sometimes I'll use a 70% salt and 30% sugar blend to rim the edge. For that added touch of sweetness, ya know. This is another shaker drink although it can be served on the rocks.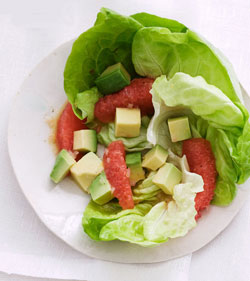 Ah! Oh, this salad. Boy oh boy oh boy this salad. I might as well call it my January Salad. Ok, January-and-part-of-February salad. Because if I ever had any doubts that I'll get scurvy or miss my dose of Vitamin E then this salad puts those thoughts to rest. Everyone has their version of this salad but over the years I've distilled it down to its most common elements: some leaves of anything (bibb, radicchio, frisee, endive), some grapefruit, some avocado, some olive oil or dressing and sea salt. That's it! Then I go and sit in a corner while juice and oil drip down my tattooed forearms before I hold the plate or bowl to my face and lick lick lick what's left.
Of course these ingredients would be fantastic with the dressing above. Heck, anything is good with that dressing.
-- Also published on MattBites.com