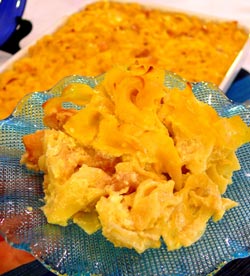 It has to be the unsexiest of all Jewish foods, the Noodle Kugel. If you say kugel with a nasally tone, it's even more unsexy than previously mentioned. The word kugel itself reminds me of kegel, another less than sexy term. Maybe that's the problem.

However, if you were to challenge me, indicating gefeltifish in a jar is the unsexiest of all Jewish food, I might secretly agree with you. But for the moment, I'm going with kugel.

Now, with all of that said, I would like to go on the record proclaiming this particular Noodle Kugel, in all of its high piled noodle glory, as having the sexiest TASTE ever. If you take a peek at the list of ingredients, you'll see there is no way it could taste bad, it's like dessert. There is something about the crispy-sugared edges of the baked noodles on top that send you to kugel nirvana. It's sublime. And please don't try to tell me there is no place called "kugel nirvana" because I've been there.

Kugels have been a staple of Jewish cooking for centuries. Their basic construction includes a starch (noodles or potatoes) with a thickening agent (oil, eggs, flour) and can be sweet or savory. If there can be perfection in a side dish, this is it. It plays well with everything.

This kugel will sit nicely next to Nana's charoset, it will complement your mother-in-law's lamb chops, but beware, it might rival Aunt Barb's Passover Sponge Cake. It's a chance you must be willing to take. If you think Aunt Barb can handle the competition, then make it. I'm twisting your arm.

Just remember, this is a very decadent recipe...it's "holiday food". Partaking in too much will leave you unsexy, as your pants will no longer button.

Noodle Kugel
Adapted from Martha Stewart

1 cup (2 sticks) unsalted butter, melted and divided, plus more for buttering dish
1 pound broad egg noodles
6 large eggs
2 cups sour cream (16 ounces), room temperature
1 cup sugar, divided
12 ounces cream cheese, room temperature
½ teaspoon ground cinnamon
¼ teaspoon ground nutmeg
3 large Granny Smith apples, peeled, cored and chopped into ½ inch pieces (about 3 cups)

Bring a large pot of salted water to a boil. Add noodles; cook al dente to package directions, about 6 minutes. Drain noodles and return to pot; set aside.

Put eggs and sour cream into the bowl of an electric mixer with a paddle attachment; mix on medium speed until combined.

Mix in ¾ cup sugar, ¾ cup butter and cream cheese. Set aside.

Heat 2 Tablespoons unsalted butter in a large skillet over medium heat. Stir in 2 Tablespoons sugar, ground cinnamon and 1/4 ground nutmeg. Add apples and gently toss to coat. Cook, tossing occasionally, until soft and caramelized, 10 to 12 minutes. Stir apples into egg mixture. Pour the apples over the noodles, tossing gently to combine. Pour into a buttered 13 x 9 baking dish. Drizzle the remaining 2 Tablespoons butter over noodles and sprinkle with remaining 2 Tablespoons sugar. You can make one day ahead up to this point. Refrigerate and bring to room temperature before baking if you do.

Bake at 350° F until set and top is golden brown, about 30 minutes. Transfer to a wire rack and let stand 15 minutes before serving.
Cathy is currently in the development stages of her vineyard and winery in the Willamette Valley of Oregon. She is a food writer for Davis Life Magazine and blogs daily about wine, food and everyday living. She currently resides in Northern California with her husband and two sons. You can visit her at noblepig.com.