The Best Barbecue Burgers
by Amy Sherman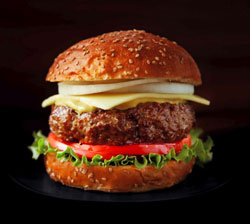 Summertime is burger time. What could be easier than throwing some burgers on the grill? Actually these days just picking which ground beef can be a challenge. Raising cattle takes a toll on the environment, and you need to choose carefully to find something that satisfies your taste and your desire for something healthy. The main outlets for purchasing beef used to be the butcher shop, supermarket or those old school mail order steakhouses. These days there's grass fed beef, Black Angus beef and American style Kobe beef to choose from as well.
We like each of the following for different reasons:
The Healthiest Choice:Grass fed Black Angus--La Cense
Price $2.28 per 6 ounce patty
+ Taste is very lean and clean
+ Better for the environment because the cattle don't eat grain
+ Leaner meat, less calories
+ Healthier to eat, Omega-6 to Omega-3 ratio of 2:1, plus vitamins and antioxidants
The Best Value: Natural Black Angus–Roseda Farms
Price $1.97 per 6 ounce patty
+ No growth hormones, artificial color or flavoring; no chemical preservatives, other synthetic ingredients
+ Cattle are are fed grass, soybean meal, corn, hay and fresh water with grain to finish
+ Rich flavor, earthy and juicy texture
+ Dry aged 14-21 days for flavor and tenderness
The Best Taste: American style Kobe–Snake River Farms
Cross between Japanese Wagyu cattle with premium American Black Angus
Price $3.45 per 8 ounce patty
+ Very rich flavor
+ Cattle fed on grains very slowly for a long-period of time (350-500 days)
+ Very juicy, a special patented process provides "spaces" for meat juices to cook "into" and "stay in", with up to 50% more juice retention than a standard patty
+ Free of both hormones and antibiotic residues
+ Cattle fed an all-natural diet of barley, golden wheat straw, alfalfa hay and Idaho potatoes
+ Healthier with a 3:1 ratio of unsaturated to saturated fat
Regardless of which beef you choose, here are some cooking tips:
1. If your burger is frozen, defrost it and season with salt and pepper on both sides of the patty right before cooking. Cook directly on the grill or in a cast iron skillet. Start with high heat to sear then lower the heat to medium or move to a cooler spot on the grill. (Notable exception: Snake River Farms recommends not defrosting their burgers before cooking)
2. Burgers can dry out fast. Take them off the heat as soon as they are done. How to tell by sight when the burger is ready? When juices start to come out of the top of the burger, it's medium. When the juices that have oozed out of the top get cooked (stop looking red and become a bit more clear), it's medium-well. For safety, use an instant-read thermometer to check and see when the meat reaches the safety zone of 160 degrees.
3. Resist the urge to press patties with a spatula. You will squeeze out the juice.
Amy Sherman is a San Francisco–based writer, recipe developer, restaurant reviewer and all around culinary enthusiast. She blogs for Epicurious , GlamDish , Bay Area Bites and Cooking with Amy .
Philadelphia


by

Emily Fox





I am from Philadelphia, and when I meet someone who isn't from Philadelphia they always say "Oh! You are from Philadelphia. You must love cheese steaks," because this is the only thing people...

Read more...

Southern States


by

Diane Sokolow






I was in the Great Smokey Mountains over the weekend, visiting the part of my family who settled there many years ago. My sister-in-law is a world-class cook, so I knew I was in for some yummy...

Read more...

Italy


by

Steve Zaillian





The first time I ate at Coco Lezzone in Florence, it was at the invitation of film producer Dino De Laurentiis, who knows a thing or two about Italian cooking:

(1) He created the gourmet...

Read more...

New England


by

Michael Tucker





Why did I love our dinner at this place so much? Could it be that The Dream Away Lodge is rumored to have been a brothel during the Depression years, which speaks of a rich history of satisfying...

Read more...