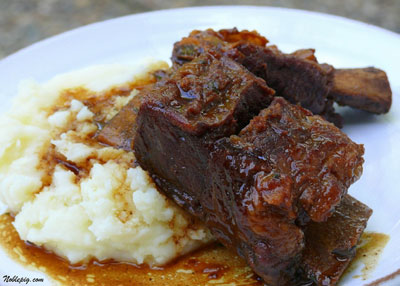 How I love braised short ribs, let me count the ways....

When it comes to short ribs, the secret is in the sauce and this creative twist using root beermakes itwell worth the time it takes to braise. The sweet and spicy root beer really enhances the meatiness of the ribs.

We loved it. The sauce reduces to this really concentrated sweet and savory combination full of flavor. Of course the meat just falls of the bone and goes perfectlywith mashed potatoes. Mashed sweet potatoes would also be a nice side dish to incorporate as well.

My oldest son ate two or three ribs before he asked what kind of sauce I had made. When I explained to him it was root beer sauce, he couldn't have been happier.

This is definitely a meal we will make again and again. I bet you will too.
Root Beer Short Ribs
Adapted from Everyday Food

4-1/2 pounds beef short ribs
Coarse salt and pepper
3 tablespoons vegetable oil, plus more as needed
2 medium yellow onions, cut into 1" wedges
3 large celery stalks, cut into 1-1/2" pieces
2 small carrots, cut into 1-1/2" pieces
1 head garlic, sliced in half crosswise
10 sprigs thyme
2 bay leaves
1 sprig rosemary
1/2 teaspoon ground cumin
2 whole star anise
3-1/2 cups beef broth
2 cups root beer

Preheat oven to 275o F. Season ribs generously with salt and pepper. In an 8-quart Dutch oven or heavy pot, heat oil to high. In batches, brown ribs on all sides, about 20 minutes total. If oil gets too dark during browning, pour off and add more oil (do not wipe pot clean). Transfer ribs to a plate and pour off all but 2 Tablespoons fat from pot.

Add onions, celery, carrots, garlic, thyme, bay leaves, rosemary, cumin and star anise. Cook, scraping up any browned bits, until onions are soft, 5 minutes.

Return ribs to pot and add broth and root beer. Bring to a rapid simmer, cover, and place pot in oven. Cook until meat can be easily pierced with the tip of a pairing knife, about 3 hours. (To store, refrigerate, up to four days if you choose.) With a slotted spoon, transfer ribs to a large straight-sided skillet; discard solids by pouring/straining liquid through a fine-mesh sieve. Skim off fat from cooking liquid. If you have time, place liquid in the refrigerator for a little while, making it easier to discard the fat that will accumulate on top.

Boil liquid and ribs over medium-high heat until liquid is reduced by half (I think I went even a little further to get it thicker), about 20-30 minutes. While boiling, periodically spoon liquid over meat, until ribs are glazed and sauce is thickened. Season to taste with salt and pepper.

You can cook the short ribs up to four days ahead; Refrigerate, then skim, strain and reduce the cooking liquid before serving.
Cathy runs her own vineyard and winery in the Willamette Valley of Oregon. She is a food writer forDavis Life Magazine and blogs daily about wine, food and everydayliving. She lives with her husbandand two sons. You can visit her at noblepig.com.