Fall Harvest Cinnamon Apple Cake
by James Moore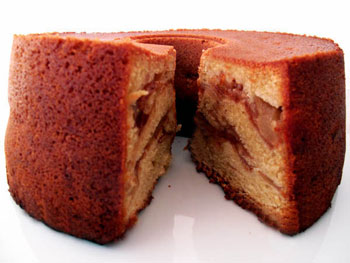 As apple picking season approaches, I'm reminded of this all time family favorite cake. My sister has been making a version of this cake for as long as I can remember. It's often referred to as "Jewish Apple Cake" (probably due to the fact that the recipe is completely dairy-free – it uses orange juice instead of milk and oil instead of butter) and there are hundreds of recipes on the internet for it. It makes an excellent coffee cake and freezes well too.
Fall Harvest Cinnamon Apple Cake
4 apples – peeled, cored and thinly sliced
2 teaspoons ground cinnamon
1/4 cup sugar
3 cups all-purpose flour
1/2 teaspoon salt
1 tablespoon baking powder
1/2 teaspoon soda
1/2 teaspoon cinnamon
1¾ cups sugar
1 cup vegetable oil
4 eggs
1/2 cup orange juice (freshly squeezed is best)
2 teaspoons vanilla extract
Preheat oven to 350F. Grease and flour a 10-inch tube pan. Combine the ground cinnamon and the 1/4 cup sugar together. Toss the sliced apples with cinnamon sugar and set aside.
Combine the flour, salt, baking powder, baking soda, and 1/2 teaspoon of cinnamon in a medium bowl and set aside.
In a large mixing bowl, beat the eggs and sugar at medium speed for 5 minutes until thick and pale yellow. Add the vanilla and mix to combine.
Whisk the oil and orange juice in a small bowl and set aside.
Add 1/3 of the dry ingredients to the egg mixture and beat until just combined. Add half the oil and juice mixture to the egg mixture and beat until just combined. Repeat with another 1/3 of dry ingredients, then the oil/juice, and finish with remaining 1/3 of dry ingredients. Do not overmix.
Pour 1/3 of the batter into the prepared pan. Top with 1/2 of the sliced apple mixture.. Pour another 1/3 of batter over apples and spread batter with rubber spatula. Add remaining apple slices, and top with remaining batter. It's OK if a few apple slices poke through, the batter will cover the apples as the cake bakes.
Bake at 350°F for 60-70 minutes. Garnish with a light dusting of confectioners' sugar if desired.
– Recipe courtesy of Cook Like James
New York


by

Joseph Erdos





I have always wanted to eat at Balthazar. After many years of fruitlessly trying to go to Balthazar, I finally succeeded. Maybe it was the way the restaurant teased me over these past few years...

Read more...

Northern California


by

Laraine Newman





I recently performed Celebrity Autobiography at the Wells Fargo Center For The Arts in Santa Rosa. I didn't know where Santa Rosa was nor did I realize that the Welles Fargo Center was a hip...

Read more...

San Francisco


by

Scott R. Kline





Joe's Cable Car Restaurant in San Francisco is where "Joe Grinds His Own Fresh Chuck Daily". A large sign on the outside of the restaurant declares this in bold type. Joe's has been around since...

Read more...

Los Angeles


by

Lisa Dinsmore





My husband and I are lovers of the grape, so we rarely indulge in hard alcohol, especially since it's usually more costly and the bars in Los Angeles don't exactly cater to our age range. It's...

Read more...