Pumpkin Spice Cookies with Cranberries, Raisins, and Pecans
by Susan Russo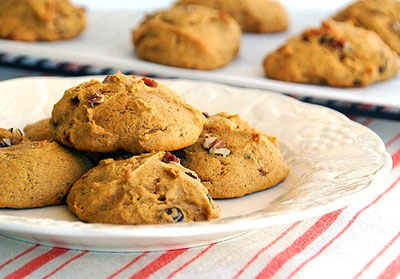 When you grow up in Rhode Island, you just can't comprehend 90 degree temperatures in October. While San Diego enjoys nearly perfect 70 degree weather year round, its hottest days are often in October, when dry desert air blows westward and bakes us like cookies in a convection oven.
No, no, no. October should be pumpkins, apples, and 60 degree days with a crisp breeze and clear blue skies set against brilliant orange, yellow, and red trees.
I decided to take the weather into my own hands. I cranked up the AC to 61 degrees, turned on the oven, and made Pumpkin Spice Cookies. Once the smell of pumpkins hit my frigidly cold condo, it was instant New England here in SoCal.
That is, until I went to shoot the pics on my deck and searing hot, dry air hit me in the face (thankfully I was wearing a tank top under my fleece). When I finished, I came back inside my frosty air-conditioned room, lit a Macintosh Apple scented Yankee Candle, and enjoyed a cookie with a cup of Chai tea.
No matter what your weather is, I'd suggest baking a batch of these big, soft, cakey cookies. Each bite is laced with ginger, cinnamon, and nutmeg and studded with cranberries, raisins, and pecans, which is exactly what October should taste like.
Pumpkin Spice Cookies with Cranberries, Raisins, and Pecans
Makes 24 cookies
8 tablespoons (1 stick) unsalted butter
1/2 cup granulated sugar
1/2 dark brown sugar
1 large egg
1 tablespoon pure vanilla extract
1 cup canned pure pumpkin
1 teaspoon ground cinnamon
1/2 teaspoon ground nutmeg
1/2 teaspoon ground ginger
1/8 teaspoon freshly ground black pepper
2 cups all-purpose flour
1 1/2 teaspoons baking soda
1/2 teaspoon salt
1/4 cup dried cranberries
1/4 cup golden raisins
1/3 cup chopped lightly toasted pecans
Preheat the oven to 350 degrees F. Line two baking sheets with parchment paper.
In a large bowl, beat butter and sugars, then beat in the egg, vanilla, and pumpkin until smooth. Mix flour, baking soda, and salt in a small bowl; add to the pumpkin mixture, and beat until just combined. Stir in the cranberries, raisins, and pecans.
Drop 2 tablespoons of cookie dough 2 inches apart (as they will spread) on the parchment-lined baking sheets.
Bake cookies for 13-15 minutes, or until firm and golden brown. Transfer to a rack and cool for 15 minutes.
To store cookies, layer between pieces of waxed paper (to prevent sticking) and place in an air-tight container.
Susan Russo is a free lance food writer in San Diego, California. She publishes stories, recipes, and photos on her cooking blog, <Food Blogga and is a regular contributor to NPR's <Kitchen Window. She is also the author of Recipes Every Man Should Know
and The Encyclopedia of Sandwiches
.
Los Angeles


by

Amy Ephron





It was the day after Christmas, we'd had too much sugar and a fair share of post-modern stress so, it was probably a bad idea to try to go "sale" shopping.

And then sort of Saks was off the...

Read more...

New England


by

Lisa Dinsmore





While back home in Massachusetts for my father's 70th birthday – which is so hard to believe – my husband, older sister Sue and I wanted to take him out one night for a first-class, adult meal...

Read more...

London - British Isles


by

Tracy Tynan





In our effort to downsize but continue to have fun, we scrambled together all our frequent flyer miles and managed to put together two return flights to London and Italy. Then, by making a small...

Read more...

Los Angeles


by

Charles G. Thompson





In many places in the world a bakery is often the nexus of a neighborhood. A place where the locals meet to buy baked goods and bread. Bread, the so-called 'staff of life,' is inexpensive...

Read more...