Pumpkin Cranberry Bread
by Susan Salzman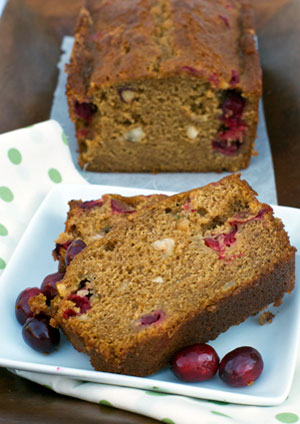 Pumpkin is going to be with us for the next two months and I want to capitalize on all that it has to offer. As I start to plan my Thanksgiving feast, in my head, I take into consideration all the wonderful flavors of the season; pumpkin, chestnuts, sweet potatoes, corn, cranberries, brussel sprouts, citrus, apples, pears, pecans, baby squash, beets, and so much more.
Right after Halloween (like now), I start to mull through magazines (new and old), cook books, the Internet, and my friend's blogs. Each year, I like to try new potato dishes, vegetables, biscuits, savory puddings, breads, and quick breads. I came across this recipe on Molly's blog, Orangette, and ironically I had this recipe earmarked in one of my books, The New Joy of Cooking. It was a sign. I had to try it.
I had a bit of left over pumpkin puree in the fridge and this was a great way for it to not go to waste. I love making quick breads and muffins. Generally, when making both of these, one could easily use things found in your very own pantry. It is a great way to whip up an after school snack, a quick early morning breakfast for the kids and both really take no time at all.
I love this bread. The original recipe called for golden raisins, but I immediately knew I wanted to replace the raisins with cranberries. The pumpkin flavor is not overwhelming, the cranberries add just the right tartness and the hazelnuts add the perfect crunch. This is not only going to be a staple in our home this holiday season, but I already see it wrapped and packaged as gifts for friends and neighbors.
Pumpkin Bread with Hazelnuts + Cranberries
adapted from The New Joy of Cooking
1 9″ loaf
Ingredients:
1 1/2 cups unbleached flour
1 1/2 teaspoons cinnamon
1 teaspoon baking soda
1 teaspoon ground ginger
1 teaspoon table salt
1/2 teaspoon nutmeg
1/4 teaspoon ground cloves
1 1/4 teaspoon baking powder
1/3 cup water
1/2 teaspoon vanilla
6 tablespoons unsalted butter, room temperature
1 1/3 cup succanat
2 large eggs, room temperature
1 cup pumpkin puree, room temperature
1/2 cup chopped hazelnuts, toasted
1/2 cup fresh cranberries
Instructions:
Preheat oven to 350*. Butter a 9 x 5″ loaf pan (I used an 8 x 4″ loaf pan and two small paper loaf pans). Whisk together flour, cinnamon, baking soda, ginger, nutmeg, cloves, baking powder. Set aside.
In another bowl, mix the water and the vanilla. In the bowl of an electric mixer, beat the butter until creamy. Beat in the sugar until combined and just blended. Add the eggs, one at a time. Add the pumpkin puree and beat on low speed until blended. Add the flour mixture in three parts, alternating with the water/vanilla mixture in the two parts. Scrape down the sides of the bowl and then fold in the hazelnuts and the cranberries. Pour batter into the prepared pans.
Bake the 8″ loaf for about 50 minutes or until a toothpick comes out clean from the center. Bake the mini loaves for about 22-28 minutes. Let cool on rack for about 15 minutes. Turn the loaves out onto the wire rack and let cool completely.
I actually made several of these and froze them, individually. Next week I have a breakfast meeting to go to and I plan on taking one of these out of the freezer the night before and reheating, slightly the following morning. This beats dunkin doughnuts any day of the week!
Susan Salzman writes The Urban Baker blog to explore her dedication to good food in the hope of adding beauty to the lives of her family and friends.

Los Angeles


by

Lisa Dinsmore





As a devoteé of all things wine, I am on the constant lookout for events that allow me to expand my palate without hurting my pocketbook. It's rare to find me at large "Grand Tastings" because...

Read more...

Southern California


by

Maylynn Morales





With my weekend plans suddenly cancelled, I got to drive up my beloved Central Coast for a second visit to Cambria in a month. Both times, I had one place in mind at which to dine: Black Cat...

Read more...

New York


by

Michael Tucker





I had one of the top ten dishes of the year today in the middle of what could have been a dreary day. It was raining and I was limping around puddles on my way to a lunch meeting in Soho.

I had...

Read more...

Paris


by

Brenda Athanus





Our excitement builds as our tiny Peugeot navigates the streets of Paris heading for rue du Cherche-Midi and my mecca, Poilane. Poilane is an extrordinary bakery that I had been reading about and...

Read more...