Admit it, no one has gotten to this point in their life having had one gleeful Valentine's celebration after another. Unlike the envelope of dime store Valentines from everyone in your fifth grade class things have probably changed over the years. Perhaps there is no one "special" in your life except for some close friends or co-workers or maybe this is the year that you can't wait for that solid red holiday of love and chocolate! What do I fantasize about, what would rock my world?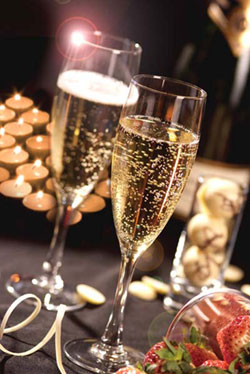 A romantic evening with my sweetheart ...I think of Valentine's day as a fragrant smelling celebration of love. The scent of chocolate cooking, Stargazer lilies, or perhaps long stem deep red roses, a familiar aftershave, saffron, rack of lamb with overtones of rosemary and garlic, long stem strawberries and the smell of bee's wax candles lighting up the whole house. No electric lights just the soft volume of Diana Krall's love songs playing as we sit in front of the yellow flamed fire sipping good champagne, talking and smiling, smooching and dancing. The night is ours, not to be rush but savored, enjoyed and repeated....
Poached oyster stew with saffron
Rack of lamb
Asparagus, broiled
Tomato goat cheese gratin
Watercress maple salad
Chocolate Dipped Strawberries
POACHED OYSTER STEW WITH SAFFRON
1/2 pint shucked oyster, nice and fresh with liquor
1 cup whole milk
1/2 cup heavy cream
1 teaspoon saffron crushed and put into 3 tablespoons white wine
2 tablespoons unsalted butter
Salt and pepper
Melt butter in a 2 quart pot on low heat. When the butter has just melted add the shucked oysters, milk, cream,and wine/saffron mixture. Watch this carefully so that it doesn't boil. Remove the stew when you see steam rise from its surface and the oysters are just barely curled. Garnish with a dash of truffle oil and serve
RACK OF LAMB
1 frenched lamb rack
1/2 cup fresh breadcrumbs
2 tablespoons dijon mustard
2 garlic cloves, finely chopped
2 teaspoons chopped fresh rosemary
Salt and pepper to taste
Brush the topside of your lamb rack with mustard. Combine breadcrumbs, rosemary and garlic and press this mixture onto the rack. Let the rack come to room temperature-no more than half and hour and roast until the internal temperature is 125 degrees. Remove from the oven, cover with a foil tent and let it relax for 10 minutes. Carve and serve 3 chops each.
BROILED ASPARAGUS
3/4 lb. asparagus
Olive oil, coarse sea salt and chopped garlic
Cut the tough ends off the asparagus, roll in olive oil mixture and place under the broiler until they are tender(4-5 min.)Keep your eye on them the whole time!
TOMATO GOAT CHEESE GRATIN
3 whole fat, juicy tomatoes, sliced 1/2 inch thick
3 oz. fresh creamy goat cheese
olive oil
1 teaspoon chopped garlic
1 tablespoon chopped olives, I use Kalamatas
Heavy cream as needed
Brush olive oil on the gratin dish, layer half the tomatoes. Break up half the goat's cheese, all the garlic and chopped olives on the sliced tomatoes. Layer the rest of the tomatoes and the goat cheese and pour cream 3/4 of way up the side of the gratin dish. Bake slowly for 45 minutes at 325 degrees or until in is cooked and brown under the broiler for 3 or 4 minutes until it is golden brown.
MAINE MAPLE SALAD DRESSING
1/4 cup maple syrup
1/2 cup good olive oil
3 tablespooons balsamic vinegar
2 teaspoons finely chopped garlic
Salt and pepper to taste
Combine with a whisk and let it marinate for 15 minutes before you toss some of the dressing with fresh watercress.
CHOCOLATE DIPPED STRAWBERRIES
Large strawberries with stems if you can find them (3 per person)
6 oz. bittersweet chocolate, melted over a double boiler
Dip the strawberries in warm not hot melted chocolate and serve on a plate that you have sifted cocoa on for decoration. Garnish with a sprig of fresh mint.