Meyer Lemon Pasta
by Joseph Erdos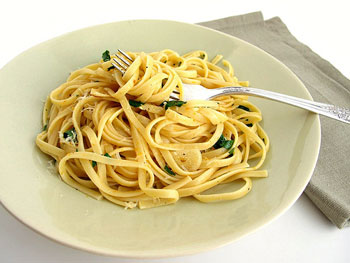 My love for Meyer lemons continues this week with another dish using these amazingly flavorful citrus fruits. This time it's a pasta dish that's done in less than 15 minutes. It's meatless, so it's great for vegetarians. But the savory flavors of garlic and crushed red pepper will also appeal to the meat-and-potatoes guys. But what really lifts this dish is the Meyer lemons, which add a tantalizing zing that refreshes the palate.

As fast as you can boil pasta is as fast as you can make this recipe. The sauce is made with just the lemons and some pasta water. Then it's a matter of finishing it off with Parmesan cheese and parsley.
Make this meal in minutes—it's perfect for the weeknight when you're lacking the time or creativity to make anything complex. And if you can't find Meyer lemons, use regular ones and get results that are just as great.
Meyer Lemon Pasta

8 ounces spaghetti or linguine
olive oil
2 garlic cloves, thinly sliced
1/2 teaspoon crushed red pepper flakes
2 Meyer lemons, zested and juiced
1/4 cup grated Parmesan cheese, plus more for serving
fine sea salt
freshly ground black pepper
1/4 cup coarsely chopped parsley

Cook pasta in liberally salted water until al dente. Reserve 1 cup pasta water.

Warm 2 tablespoons oil in a large skillet set over medium heat. Add garlic and sauté for 2 minutes until slightly golden. Add red pepper flakes and toast 1 minute. Add lemon juice and zest and reserved pasta water. Raise heat to high and simmer until slightly reduced, about 3 minutes. Add pasta and toss to coat. Add cheese and toss to coat. Season with salt and pepper. Off from heat stir in parsley. Serve with additional grated cheese.
Yield: 2 servings.
Joseph Erdos is a New York–based writer and editor, butabove all a gastronomer and oenophile. He shares his passion for foodon his blog, Gastronomer's Guide , which features unique recipes and restaurant reviews among many other musings on the all-encompassing topic of food.
Los Angeles


by

Lisa Dinsmore





Though I've lived in Los Angeles for two decades, I still don't consider myself an Angeleno. Mostly because we rarely do anything that's considered interesting or hip in this vast and...

Read more...

London - British Isles


by

Carolan Nathan





One thing I sadly miss living on the west coast of the USA are the Atlantic sea offerings in all their glorious whiteness and taste. So when I returned to London in September I set out to eat as...

Read more...

New York


by

Ilene Amy Berg





I recently saw a new show on the Food Network called "Food Feuds". I like it – I get it. It's a simple premise: in towns all across the country there are passionate disagreements about "the best"...

Read more...

Los Angeles


by

Maia Harari





I try really hard to be a health-conscious dancer. I go to the health food markets and buy spinach and avocados and turkey breast and trail mix. But the truth is, I am a carb monster. "C stands...

Read more...