Leftover Chicken Potato Hash
by Susan Salzman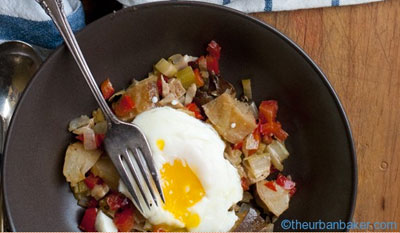 Every Sunday I roast a few chicken breasts (bone in, skin on). It's easy. Having shredded chicken in the kitchen at all times prevents me from randomly eating empty calories during the week. Plus, having pre-cooked, roasted chicken on hand, gives me lots of inspiration for one pot meals.
Generally, I don't really like leftovers. With that said, I always make enough food for dinner so M can take lunch to work with him the next day and the kids have something healthy to put in their lunch box. Yet, by the time Thursday rolls around, even though I have "planned" a particular meal for that night (yes, I do meal plan every single week), sometimes it is hard to motivate. Whipping up a meal in less than 2o minutes is sometimes much more desirable than what was supposed to be on the table that night and this leftover hash was created on one of those nights.
Left over roasted potatoes, shredded chicken, half of a red pepper, a few leeks, additional random veggies, and some spices, created one of our new favorites; Chicken-Potato Hash. It is equally delish with or without the poached egg. Eli and I prefered it with the egg, where as Isaac cannot sit next to us when eggs are on the menu. Instead, he added a bit of ketchup. This also makes a wonderful and highly requested Sunday morning breakfast. Sausage works just as well and I have been known to a throw in some left over green beans, roasted carrots (or other roots), and a dollop of goat cheese.
Leftover Chicken Potato Hash
there are no rules to this dish. leftover sausage, roasted veggies, soft cheeses would all work. the key to this is to keep it simple!
Yield: 6 servings
Ingredients:
for the chicken:
4 – 6 organic chicken breasts, bone in, skin on
good olive oil
Celtic sea salt
fresh ground pepper
for the hash:
3 tablespoons unsalted butter, divided
1 cup cooked chicken, cubed or shredded
1/2 – 3/4 cup cooked potatoes (I have used leftover baked potatoes and grilled potatoes)
3/4 cups leeks, white part only, diced
3/4 cups celery, diced
1/2 cup red pepper (or whatever color you have on hand), diced
1/2 teaspoon Celtic sea salt
1/2 teaspoon ground white pepper
1/4 teaspoon cumin
1/2 cup homemade chicken broth
4 large organic eggs (optional)
Instructions:
for the chicken:
Preheat oven to 375°F. Line a rimmed baking sheet with heavy duty foil. Set aside. Wash and pat dry the chicken breasts. Place on prepared baking sheet. Brush breasts with olive oil. Sprinkle with Celtic sea salt and fresh ground pepper.
For the hash:
In a large cast iron skillet, melt butter. Add leeks, celery, and red peppers. Saute until translucent and soft, about 10-12 minutes. Add chicken stock and turn up the heat to high. Bring to a boil. Turn down to medium and reduce liquid by half. Add cooked chicken and potatoes. saute until both are warmed through. Add salt, white pepper, and cumin. turn down to low and keep warm while poaching your eggs (if using). Serve warm!
Susan Salzman writes The Urban Baker blog to explore her dedication to good food in the hope of adding beauty to the lives of her family and friends.

Los Angeles


by

Sharon Oreck





Suzanne Goin, the uber-talented celebrity chef of Lucques and A.O.C. Wine Bar fame, was rumored to be the front runner for the 2005 James Beard Chef-of-the-Year award, and as far as I was...

Read more...

New York


by

Michael Tucker





We ate some wonderful Venetian bar food at Bacaro last week. Tucked away on adorable Division Street that runs on a slant between Chinatown and the Lower East Side, Bacaro unwinds down the...

Read more...

Los Angeles


by

Sara Mohazzebi





Darya in West L.A.

I wish my comfort food was as simple as mac and cheese or ice cream with chocolate sauce and gobs of whipped cream. But I grew up with a...

Read more...

Europe


by

David Latt





In Amsterdam, restaurant food tends to be hit-or-miss. Most dishes are under-seasoned, but that doesn't mean you won't eat well.

The fact is, you're likely to have good cafe food; meaning great...

Read more...