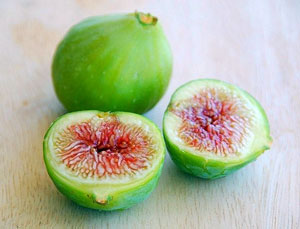 Fresh figs have a preciously short season (typically from August-October), so now is the time to indulge. Though the vast majority of figs are produced here in California because of its Mediterranean climate, they can be found in most supermarkets across the country. This is a good thing since fresh figs are di rigeur, appearing in everything from sweet jams and tarts to savory salads and chutneys. And let's not forget the touch of grace they add to crostini, pasta and pizza.
These captivating tear-drop shaped fruit are singular in appearance, flavor, and texture. First they lure you in with their sweet perfume. Then they tempt you with delicate skin that is lush with ripeness, revealing droplets of golden honeyed nectar. One bite reveals an irresistibly attractive pink flesh that is second only to its swoon-worthy soft, cool, creamy flesh.

Fresh figs are not at all like dried figs (which I also love), so there are few things to know about them.
Here's how to select fresh figs:
1. Look for richly colored, plump, unblemished fruits with the stems intact. The skins of figs often have a powdery finish, which is normal. They should be tender to the touch, but not squishy. Fully ripe figs often ooze a clear, syrupy substance clear which is a good indicator of its sweetness.
2. If you're not too embarrassed, then take a good whiff. Ripe fresh figs usually emit a delicately sweet fragrance.
3. Since figs do not ripen once they're picked, it's best to eat them as soon as possible. Otherwise, place unwashed figs in an air-tight container and cover with a piece of paper towel; they should last 1-2 days.
4. Bring figs to room temperature prior to eating, which will enhance their flavor. Wash them gently, remove the stem, and enjoy.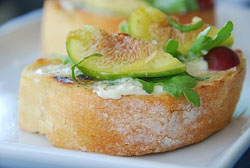 Some fig purists wouldn't dream of adulterating fresh figs with any condiments and will only eat them out of hand. However, like vine-ripened, succulent strawberries, their sweetness is magnified when balanced by salty, bitter, or sour flavors. That's why figs get along so beautifully with salty cured meats like prosciutto, bitter greens like arugula, and sour flavors like vinegar. I needn't tell you that they are divine in desserts ranging from delicate pastries to homey crisps.
This Fig and Mascarpone Bruschetta is a simple yet stylish appetizer. You really don't need a recipe for it. Just follow my basic outline, and feel free to improv. Don't skip the lemon though; it has an amazing ability to counterbalance the fig's sweetness. For a variation, try fresh ricotta cheese instead of mascarpone or add some prosciutto slices.
Fresh Fig, Arugula, and Mascarpone Bruschetta

Select a hard, crusty bread of your choice, such as ciabatta. Make thick slices, and brush with extra virgin olive oil. Broil or toast until golden and crisp.

Quarter the fresh figs. In a medium skillet over medium heat, warm 1 teaspoon of olive oil per 1 quartered fig. Saute for 2 minutes, or until lightly browned and caramelized.

Spread about 2 teaspoonfuls of mascarpone cheese on each toasted bread slice. Top each slice with some fresh arugula, 2 fig quarters, a splash of aged balsamic vinegar, a splash of lemon juice, some kosher salt crystals and freshly ground black pepper, and several thin slices of fresh basil. Garnish with lemon zest curls if desired, and serve immediately.
- Also published on Susan Russo's site FoodBlogga.